Skills / Disciplines

All Around, Athletic, Beginner, Dressage, Driving, English Pleasure, Experienced, Finished, Flashy, Import, Longe Line, Natural Horsemanship Training, Performance, Ridden English, Saddle Seat, Show, Show Experience, Show Winner, Showmanship, Sport, Team Driving, Trail
Additional Comments
Wytske makes a lasting impression on everyone that he meets. He was his owner in Holland's heart horse. She was devastated to have to sell him. She wrote a letter about him below to his new owner.
Dear Wytske's new owner,
How nice that he is going to get a very good home with you! I'm sure he's going to make you guys really happy. He is a very sweet horse who loves to cuddle and a lot of attention. Wytske is a horse with a heart of gold, he will never want to hurt you.... (read more) He is also very sweet to children, who can also give him anything, including kisses. Horse candy taste He likes bananas very much, fresh carrots and apples are always used.
Everywhere we went with him he had fans, with his loyal eyes and beautiful appearance everyone fell in love with him. Before I had opened the trailer hatch, people already came up to me to see if I had that "very nice one" with me.
When you stand next to him, you really feel like the queen when you walk with him next to you. As time has passed we have gotten to know each other better. And Wytske is really in my heart. He gives a lot of love and if you come to him after a bad day and he looks at you with his warm eyes and gives you a hug, you forget all your worries. He has the x factor not only from the outside but also from the inside. You have a friend for life in him. He has an open, warm and friendly character and when you are good to him you will receive more love from him than what you give him.

Have you been seeking a FAIRYTALE, drop-dead gorgeous, talented, and Sweet Friesian boy to be your forever best friend? Look no further. Wytske is a gorgeous dressage show stopper. He truly is REGAL with such a handsome head and neck. This boy has a great trot- yet is so smooth and easy to sit. Not to mention a lovely canter. Wytske is a real beauty and will make a lovely performance horse for any discipline, amazing all around horse, or just an overall best friend. He LOVES to cuddle and is a real in your pocket kind of horse. Wytske is standing at 16.3 hands and is 6 years old. He has lots of show experience and amazing scores. He is currently 1st level dressage and schooling second level.
Wytske has a BEAUTIFUL head and neck and phenomenal conformation. You sure can see the quality in this horse. This charming boy has three fantastic gaits. He just floats when he trots and also has an incredible canter! You will want to canter all day on this boy. Wytske boy has SO MUCH talent! He has smooth, perfected transitions. He is balanced in the bridle and was trained the right way and it shows. He has the best attitude and is very willing to work. He is forward when you ask him to be, but is also suitable for an amateur. We love him because he is very talented but also very easy to ride. He will give you confidence. He is brave and just a true gentlemen under saddle. He was started right, and it shows.
Wytske' father is the famous Uldrik 457. Uldrik is known for passing along his strong trot, and impeccable disposition.
We recently Wytske thoroughly vetted and x-rayed.
Wytske is sure to please with his charming personality and magnificent looks!
---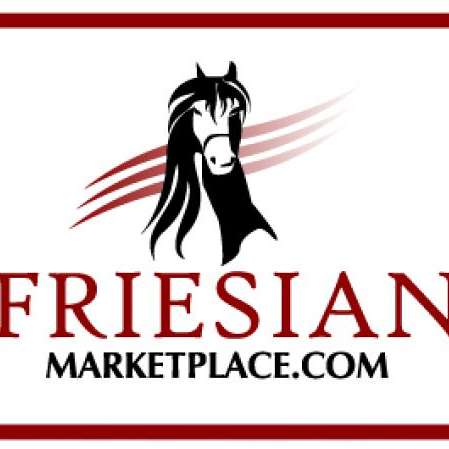 Friesian Marketplace
We specialize in the Sales and Training of the Friesian Horse