Additional Comments
Are you looking for a horse that will go ALL DAY and never give in?? check out KIPPER... she is said to be 14 yrs old and she stands about 15.1-15.2HH and built like a tank!!! Solid hard feet. good to handle, catch, load and haul. She will literally go anywhere you point her. we have ridden her in all Different types of Terrain and she has done it all with no issues. she does need an intermediate rider or better at this time. former owns said their grand kids rode her and i seen pics but she is FULL of energy and GO..... (read more) we have ran her a time or 2 on the barrels and poles and she shows EXCELLENT potential as an arena mare as well as a GREAT mountain and trails horse. videos coming soon. PPE Vet checks Welcome at the buyers cost. asking price is $2000 OBO

(435) 680-5895 Cell for more info.
---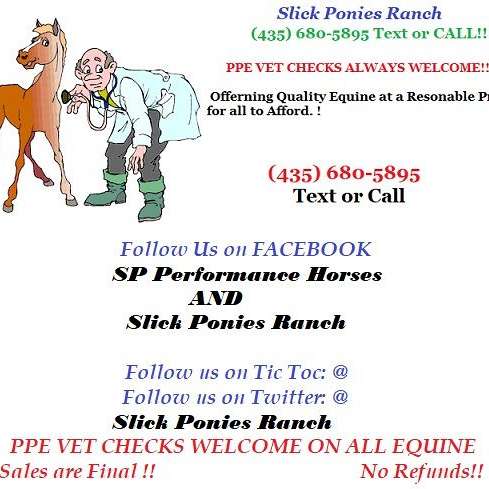 Slick Ponies Ranch
Slick Ponies Ranch offers Quality Horses and Ponies at REASONABLE prices so Everyone can enjoy owning a horse.. We offer Equine for just about every Discipline. We have Trail and Family Equine, Rodeos, Ranch and so many others.. We offer Horses, Ponies and Mules. We also Do Lots of Consignment Sales for Outside Clients. We take the headache out of Buying and Selling. We always Offer a PPE VET CHECK on all equine purchased here.... (read more) We also Offer Transportation on Equine purchased thru Slick Ponies Ranch. Opening October 2019 Scenic Canyon Trail Rides. A place to Come and ride the high Desert and enjoy all the Desert has to offer. Wildlife, Plants and Peace. We will Offer 1 Hour, 2 Hour and 1/2 Day rides. Rides Are done on the state line of Nevada and Arizona in Beautiful Scenic, AZ Call for a Reservation (435) 680-5895 ' AZ Strip Rides is a FUN Rodeo for all ages and Riding levels. we offer a Few age groups, with Daily prizes and Year end awards. Our Next FALL Season will Be October - December 2019. We will Have Barrels, Poles, and a Few other FUN Events each time. Cost is Affordable for all Families and Individuals. 100% of all proceeds go back into the Riding Club for awards!! We will have a Fall Series, Winter Series and a Spring Series. call (435) 680-5895 For more info. Check us out at www.slickponiesranch.visit our website for more horses and full details to our services. Home of AQHA Stallion "Pay Chrome in Cash" May he Rest in Peace we laid him to rest after a horrible battle with colic January 2019.