Skills / Disciplines

All Around, Athletic, Barrel, Dressage, English Pleasure, Equitation, Eventing, Flashy, Halter, Hunt Seat Equitation, Hunter, Hunter Under Saddle, Husband Safe, Jumper, Jumping, Hunter Jumper, Kid Safe, Lesson, Polo, Racehorse, Ridden English, Ridden Western, School, Show
Additional Comments
Hazelnut is a handsome, goofy, 10 year old Thoroughbred Gelding for half lease or sale in Lancaster PA!!! contact me for more info (best way to contact me is to text (717) 224-8272)

Looking for $7,000 or best offer
For part lease (3-4 days per week) $250

Hazelnut Expresso, is a registered OTTB gelding out of More Than Ready (the leading juvenile TB shire of 2014)

Hazelnut is a charming horse who is calm and level headed, not to say he's dead broke, but you can walk under his belly, he was boarded at a place by a shooting range, fire station, and a school stadium so loud noises don't phase him and he doesn't spook easily.... (read more) He is forward and eager to please. He also has a particular fondness for twizzlers.

Hazelnut and I have competed at local and 4-h shows usually placing in the top 4. He has lots of scope and talent. He has free jumped 4,3 without a rider, and done about 3ft in the jumping ring, over some courses and hunter hack. He has good conformation and is barefoot. Hazelnut is good with kids and my two little brothers and friends and family have come out to ride him. There has been several occasions where beginners are on him and I ask him to do something and he refuses because he knows how off balance they are and he doesn't want his rider to fall off. He has worked as a camp horse at camp conquest and was great with the kids at a walk trot.
He does have a bouncy trot but once you are used to it it is easy to sit, I prefer sitting trot to rising trot on him. If he is not ridden consistently he also will be somewhat unbalanced, but when he is being ridden regularly he is great. He never has to be lunged before rides. He loves to jump but I would recommend a confident rider to steady and slow him coming into jumps. He also has a big jump and will tend to over jump by 1-2ft.

We participated in Randi Thompson 's dressage clinic at the PA horse world expo two years ago and learned a lot about balance and conformation. Hazelnut would make a good intermediate-advanced riders horse perfect for someone looking to move into local show level or for a 4-H member looking to compete in 4-H. At the PA Horse World Expo I had several trainers and clinicians evaluate him and give me a price estimate at the time they all put him at about $10,000 but, I know since I have not had much time to school him lately that he is not worth that at the moment therefore I am looking for $7,000 as I am selling him so I can afford college, but the price is negotiable.

Feel free to contact me for more information or to set up a trial ride, to come meet Hazelnut. HE IS NOT AVAILABLE FOR OFF FARM LEASES he is currently boarded at Nookside stables in Lancaster PA.
Once again to contact me TEXT me at (717) 224-8272 (I always forget to check messages on equine now) for more photos, videos etc.
---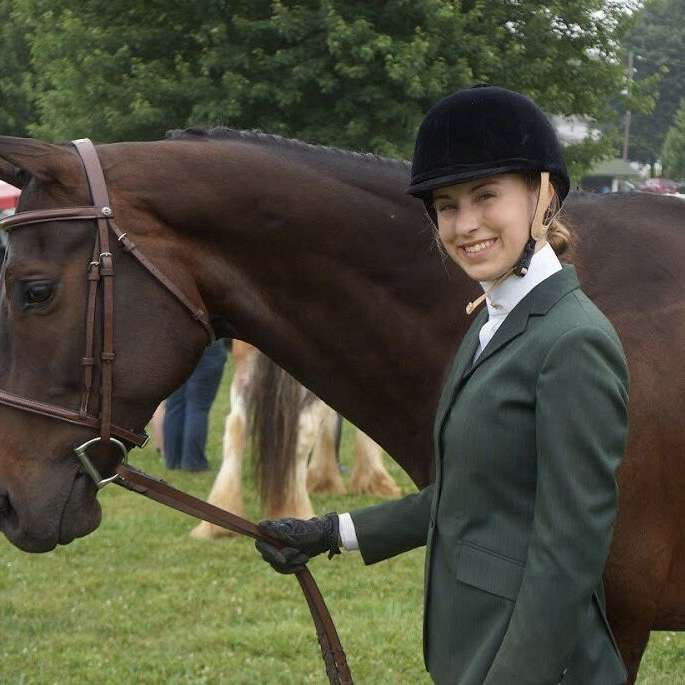 My name is Meghan Becker I am a college student looking to sell or lease my horse Hazelnut. I re-trained him myself with my moms help. I bought him from a re-homing program. I am selling him as I don't have the time I used to have for him and he deserves better, and because I need money to pay for my college tuition.