Skills / Disciplines

All Around, Athletic, Cross, Draft, Driving, Sporthorse
Additional Comments
EDIT: January 11, 2021...All of these foals have been spoken for at this time. I can take information if you should wish to be contacted if a buyer should back out. Thanks to everyone who has reserved their foal!!
EDIT: December 15: We only have one foal left available.. this is the foal from our AQHA mare...please read details below. Witten Creek Farm is so excited to offer their 2021 foal crop. We are expecting 12 Friesian cross foals this spring, and 2 purebred Friesian foals.... (read more) All but one will be sired by our FHANA stallion, Vorn MFF. Vorn is sired by Doaitsen 420 Sport, ( Wander 352 x Reitse 272) and out of a Crown mare sired by Beart 411 Sport Pref (Jasper 366 Sport Elite Pref x Feitse 293). Vorn is negative for hydrocephalus and dwarfism, as well as negative across the board, for all hereditary issues, such as HERDA, PSSM1, WFFS, and HWSD. Vorn is consistently siring very intelligent foals with superb dispositions and very correct conformation. His foals have been purchased by folks who just want to trail ride and by folks who are planning on showing them. We have sold foals to people from California to Delaware, from Michigan to Montana, and from Arizona to South Carolina.
We have a variety of mares, producing something for everyone. They range from a 15 hh AQHA mare, to our 18 hh Spotted Draft mare. Our foals are imprinted at birth and handled daily. We work very hard to have people oriented, well behaved foals.
Below are descriptions of our mares.. The mares are NOT for sale, nor is our stallion. Only the foals from the listed mares are available. After the foal is born and determined to be healthy , we will send you out a purchase agreement to be returned (within fourteen days) with your down payment of 20% of the purchase price. you may name your foal, providing it starts with " Witten Creek" ...as in Witten creek Ranger. All of our foals are registered with the Friesian Heritage Horse and Sporthorse International Association. They will be microchipped.

So, here goes...remember..only the foals are for sale..

Lady's Blue Girl...Lady is a Friesian Percheron cross blue roan. She stands 17.2 hands and weighs 1685 lbs at weigh in. Lady is a daughter of Weibren fan FC ( Ouke 313 x Krist 358). Her coming foal has a 50% chance of being a blue roan. Edit : as of 11/28, this foal is now spoken for.
WCF Black Beauty is a Friesian/Shire cross mare standing 16 hh. Beauty is a daughter of Michelangelo P "Ster ". Edit: as of 11/24, this foal is tentatively spoken for.
Witten Creek Daisy (Friesian/Percheron cross) is a daughter of Edison f/t Friesian Connection (Mintse 384 x Onne 376). She stands 17.2 hh. Edit: December 14: this foal is now spoken for.
C snd D's Starlily is a registered Percheron standing 17.3. This coming foal will be a gray. Edit: As of 11/25, this foal is tentatively spoken for.
Witten Creek Jeannie is a purebred Percheron mare standing 16.3. Her coming foal has a 50% chance of being a gray. Edit: this foal is now spoken for.
Warbonnet Justice is a 15.3 hh leopard registered Appaloosa. She is a daughter of the reserve world champion halter horse, The Spot Broker. Edit: as of 12/4, this foal is spoken for.
MC's Ace Elisha is an 18 hh registered Premium Spotted Draft. Her baby will be a black and white tobiano. This foal is tentatively spoken for as of 11/26.
French Creme Frosty is a perlino AQHA mare standing 15 hh. Frosty is a granddaughter of PC Bronsin. Her coming foal will be a buckskin.
Witten Creek Reba (Friesian/ Percheron cross) stands 16.3 and produces babies with beautiful movement and lovely carriage. Edit: December 14..this foal is spoken for.
Witten Creek Maggie is a registered Pinto. She is a Clydesdale/Hackney Horse cross. She stands 16 hh.
Edit: December 11..this foal is spoken for.
Witten Creek Gypsy is a 15.3 hh registered Gypsy/Percheron cross. Her foal is spoken for.
Gibby's My Girl is a 16 hh Friesian Morgan cross. Her foal is also spoken for.
Tineke's Pride "Ster" is a purebred Friesian. Since Vorn isn't an approved stallion, her 100% Friesian foal will be registered with the FHH. This foal is also tentatively spoken for.
Amarins fan de Koarndyk "Ster" is ( Anton 343 x Jillis ) is in foal to Michelangelo P "Ster" for a late June foal. She stands 15.3 and is very baroque. Edit: as of 11/24, this foal is tentatively spoken for.

Please visit our webpage visit our website for more detailed information on the mares. to see past foals on our old FB page Witten Creek Farm (I have been hacked and can no longer post as the administrator on that page...for more pictures or videos. I now have a new FB page, Witten Creek Farm Friesian Sporthorse Foals, visit our website
if you wish to contact me there. We are located in Southeastern Ohio. References from previous buyers are available. Please email or call with questions. Also, the phone number listed is a landline..so no texts please.

Please do not reserve a foal if you are not serious about purchasing it. That will force us to go to in-utero contracts, with a down payment required before birth, and we really do not want to do that.
Please note, the listed price of $6500. The purebred Friesians will of course be more.

Thanks for looking!
---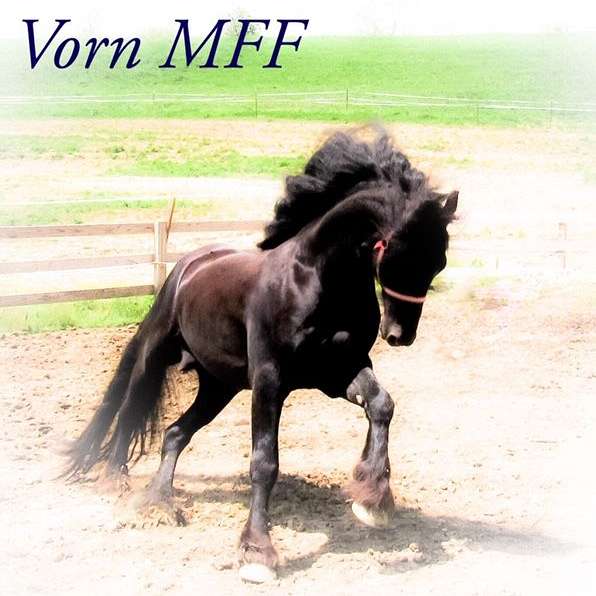 Witten Creek Farm
Raising quality Friesian cross horses. Our brood mares are selected for not only their conformation and bloodlines, but their attitudes as well. All are quiet, gentle and a pleasure to be around. All of the Friesian cross mares have been DNA parentage verified, and all of our babies will be Friesian Heritage Horse registered and DNA verified, as well as micro-chipped. You can be certain when you get one of our babies, that it has already been tested and verified.... (read more) We strive to produce calm, quiet and loving foals, that will be a true pleasure to work with. Daily handling and exposure to a variety of items help them get started right. We try to have each baby not only halter broke, standing for farrier, and loading in a trailer, wearing a pad and surcingle, as well as crossing cavelliti, crossing a tarp, and standing on and crossing a pedestal, We try to teach them to think about things and to trust their human partners. Our stallion, Vorn MFF is a son of Doaitsen 420, the USEF Friesian sire of the year for 2016, 2017, and 2018. Vorn's mother is a crown mare by Beart 411, the two time driving champion of the Netherlands. Vorn rides and drives. Vorn is also hydro and dwarfism free and five panel negative.. His first foals are on the ground and exceeding all expectations. We have sold babies from coast to coast. Vorn's get are all very people oriented, athletic and very intelligent. They are easy to work with, and for the most part, very quiet natured. For the latest videos of our babies and their progress, please visit our old Witten Creek Farm page on Facebook. (I have been hacked and can no longer access that page. Our new page is visit our website