Skills / Disciplines

All Around, Athletic, Barrel, Barrel Racing, Beginner, Breeders Trust, Breeding, Calf Roping, Cowboy Mounted Shooting, Champion, Companion, Cutting, Cutting Prospect, Dappled, Draft, Dressage, Drill Team, Driving, Endurance, English Pleasure, Equitation, Eventing, Experienced
Additional Comments
I, along with two other trainers, had 5 months to train and prepare an unhandled colt off the mountain from the Mcnabb Ranch in Wyoming. In June, I loaded Drifter up on the stock trailer and began the journey. November 14th, 2020, Drifter will be selling in the Horseman's Mission Select Sale. Mark your calendars!

Where do I start? Drifter has been one of the best minded horses I have had the opportunity to work with. I trust him so much, I have ridden him bridle-less around the ledges in Hocking Hills.... (read more) He has been on numerous overnight camping trips, obstacle courses, swimming in the pond- you name it, Drifter and I have tried it. His gentle and willing nature is what I admire the most about this colt. Most of the footage in the video shows the first time experiences: roping, shooting a pistol & shotgun, swimming. Those were all the first take so you could see how he responds to a new challenge. There hasn't been a point in his training where he has refused to try for me. Drifter has a very smooth and easy to ride jog and rocker chair lope that you could ride all day long. He rides off by himself without getting buddy sour or will follow along in a group with ease. Drifter will ride around on a loose neck rein or supple up and cruise around two handed, to suit both English and Western disciplines. As far as personality is concerned, he could double as the family dog, as he will be the first to greet you in the pasture and will drop his head in your arms to be loved on until you leave. His mellow, and good natured demeanor makes him a great confidence builder and would suit most any level of rider. He has all the buttons: side pass, turn around, leg yield but just as easily-point and go. Gentle, flashy and broke, with unlimited potential!

Come out and take him for a test drive before the sale, and I would be happy to show you everything Drifter has accomplished.
---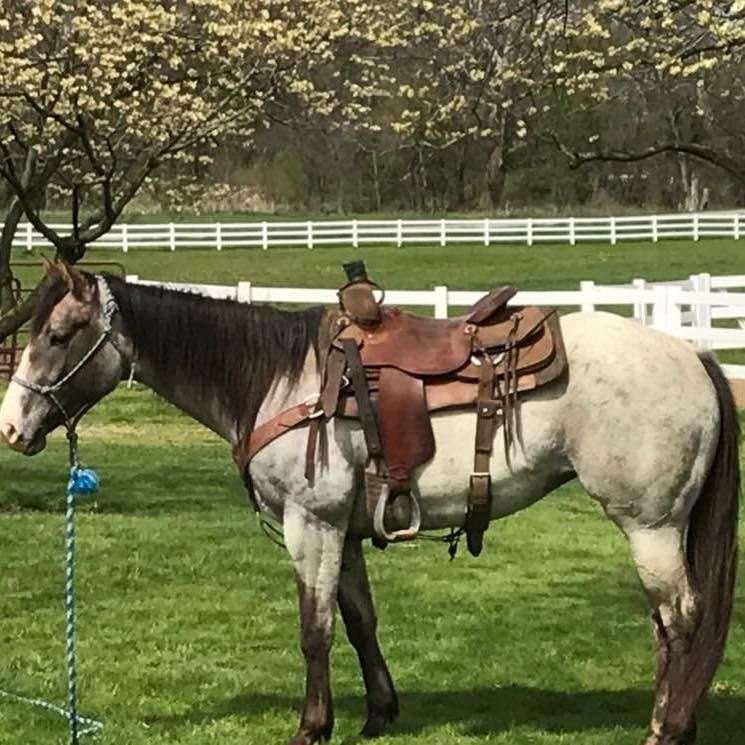 We are committed to selling quality horses, and educating owners to ensure a dependable future.