Skills / Disciplines

Blue Eyed, Breeding, Double Dilute, Dressage, Driving, English Pleasure, Eventing, Flashy, Flaxen Mane, Homozygous, Hunter, Import, Jumper, Jumping, Hunter Jumper, Show Jumping, Sporthorse, Sport, Stallion, Started Under Saddle
Additional Comments
British Warmblood - AES GRADED STALLION - Approved as a "Registered Stallion" to breed to 10 of the owner's mares per year. Eligible to test for the next level which is "Licensed Stallion" to stand at stud for 30 mares per year. Stallion approval is a process and he's already on his way.

Mikado is only being sold because we are retiring from breeding. We are looking for an exceptional show and breeding home for this unique and special boy.... (read more)

More videos:
Jumping video: Watch Video
First time over ground poles: Watch Youtube Video
At liberty: Watch Youtube Video
At liberty: Watch Youtube Video

Eventing / Showjumping / Dressage Prospect
Anglo European Studbook (AES)
SMOKEY CREAM (DOUBLE DILUTE) TOBIANO
to mature to 16.2+ hands
DOB: 5-10-2017
WFFS1 Negative (Fragile Foal Syndrome)
Imported from England

GFS Lord of the Dance x Charisma (Camaro x Hurikan/Landruf)

We are thrilled to announce that GFS Mikado was awarded "registered" status in the AES studbook at his private stallion grading on 3-31-2020. This means that he can breed up to 10 of our mares per year. This approval will transfer to his new owner. We bred him to 3 of our mares this year through AI and they all took with one collection from him. So he's very fertile. We bred him because he needs foals on the ground for permanent approval with the AES. He is also eligible for licensing with the Westfalen registry, a process which we've also started. He was in training for six months prepping for the grading and being started under saddle. He loves jumping and had made excellent strides in his training. He is currently back at our farm while looking for a new show home. He was bred for eventing but would also excel at jumping or dressage. He has a calm temperament and enjoys his work. You're not going to find another horse with this coloring and these bloodlines in the United States.

GFS Mikado is a rarity in the modern sporthorse world. His sparkling color of an exotic double dilute tobiano, combined with his warmblood ancestry, is truly unique and exceptional. Mikado is an impressive young horse, a stallion candidate, with a high percentage of Trakehner/Kinsky Warmblood enhanced with Russian Trakehner, Akhal Teke and Thoroughbred. The Russian Trakehner is known for its performance ability in show jumping, dressage, and racing, their trainability, and the fact that they're easy to manage. The Akhal Teke is known for its speed and endurance, excellent temperament and intelligence, and a shimmering metallic sheen to their coat, which has led to the palominos and buckskins being known as "Golden Horses". The Akhal Teke is considered one of the rarest, and most exotic, breeds of full-sized horses in the world. Both the Russian Trakehner and Akhal Teke bloodlines in Mikado's pedigree are rarely found outside of Russia are ancient bloodlines that are highly prized and sought after and are thought of as mysterious and glamourous. Kinsky Warmbloods are known as Europe's original "gold sport horse" and are now considered a rare breed by the European Union authorities. Kinsky Warmbloods excel in show jumping, eventing, dressage, polo, and hunt racing. They are renowned for their wonderful temperaments, easy trainability, athleticism, stamina and they tend to bond easily with humans.

The result of this unique combination of breeds has provided Mikado the speed, agility, stamina, and balance needed to excel in an extraordinary career in any of the three major disciplines of eventing, show jumping and dressage but also in the sports of racing and endurance. He has the perfect combination of bloodlines with the performance infusion of the exotic Russian Trakehner, the endurance of the Akhal Teke, and the refinement and extreme athleticism of the Kinsky Warmbloods.

Mikado has already begun the transition from lanky teenager to filling out into an outstanding young horse with exceptional conformation and powerful build. His movement is both graceful and strong, with a nice, loose swinging walk, impressive trot, and the ground covering canter and gallop of a true athlete. He's light on his feet, a fast learner, brave and willing to please. He loves being around people and has an excellent, sensible temperament.

GFS Mikado has a unique pedigree. He gets the high percentage of Russian Trakehner, Akhal Teke and Thoroughbred from his sire, GFS Lord of the Dance, aka Django, who was licensed as a 2-year-old and his sire, Destello, an Estonian imported stallion, which was unique to British breeding. Django's dam, Malibu Breeze, has also produce two other licensed stallions and is considered a rarity because she is a double dilute warmblood that has the power and grace of her Thoroughbred heritage and the body and bone of the German ancestry.

Her sire was Malibu Galileo, a 17 hand Hanoverian eventing stallion who unfortunately passed away young due to a covering accident. Malibu Galileo was sired by Gymnast, a prominent dressage stallion, and his sire was Grenadier, a very important sire whose offspring excelled in dressage. Malibu Galileo's dam was Delta, who in 1993 became the Supreme Champion at the British Warmblood Show after winning many hunter classes at the county level. Her sire, Atlantus produced many highly graded offspring and international competition horses. Atlantus was a foundation sire for the British Warmblood Society Studbook.

Malibu Breeze's dam is Great Yeldham who's sire's side contains some amazing British, French, and American thoroughbreds including Blushing Scribe, Blushing Groom (he won the Prix Robert Papin, Prix Morny, Prix de la Salamandre, and Grand Critérium and was named the French Champion Two-year-old), Red God (won the Richmond Stakes and Roseben Handicap at Belmont Park), Nasrullah (who won the Coventry Stakes and the Champion Stakes), and Nearco, one of the most important stallions of the 20th century who was an undefeated Italian racehorse. Her dam side is just as impressive and contains Super Concorde (the highest-rated two-year-old in France in 1977 who won the Prix de Cabourg, Prix Morny and the Grand Criterium), Bold Reasoning (winner of the Withers Stakes in 1971 and the sire to Triple Crown Winner Seattle Slew), Boldnesian (Santa Anita Derby winner in 1966) Primera, My Babu (a French-bred Thoroughbred racehorse who became one of the most influential sires in American breeding of show jumpers, eventers and hunters) and Hail to Reason (1960 American Champion Two-Year-Old Colt).

GFS Mikado's dam, Charisma, is Westphalian registered. She is sired by the approved Trakehner stallion, Camaro, who is an Elite advanced eventer and showjumper. To date, he is one of only two Elite colored Trakehner stallions and is very successful due to his advanced winning career in eventing and showjumping and he placed twice at the German Bundeschampionate. Le Duc, his grandsire, was reserve Champion of his performance tests with scores of 9's and a 10 for temperament. In dressage he successfully competed to S level with a performance index of 146 points.

Charisma's dam is Luminare, one of the few purebred Kinsky Warmbloods, who is sired is Hurikan, a rare breed Kinsky Warmblood showjumping stallion. Kinsky Warmblood's have been prized throughout history for their speed, stamina, vast versatility, athletic ability, and fierce loyalty. They have competed in eventing, showjumping, dressage, endurance and steeple chasing and are renowned for their faultless temperaments, acute intelligence and willingness to work.
---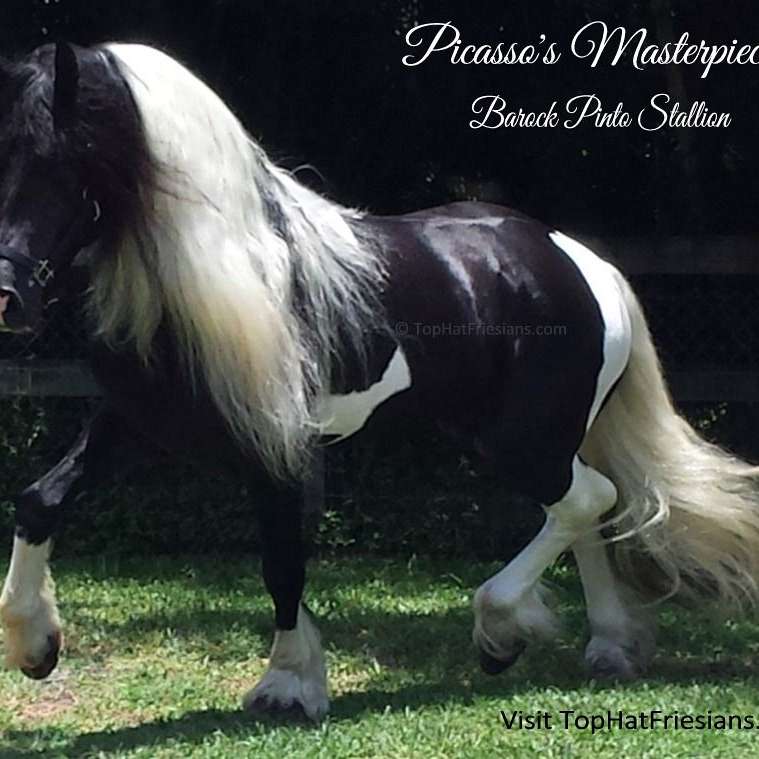 Top Hat Friesians and Barock Pintos
Breeders of KFPS Friesians and KWPN Barock Pintos