Skills / Disciplines

Breeding, Dressage, English Pleasure, Equitation, Eventing, Flashy, Hunter, Import, Jumper, Jumping, Hunter Jumper, Pleasure Driving, Sporthorse, Stallion
Additional Comments
Imported British Warmblood - AES Stallion Candidate - will be eligible to be presented to the AES for licensing when he's old enough. Once approved with the AES he is eligible to be presented to the KWPN and other registries for approval.

Graffiti is NOT an Appaloosa and does not carry any Appaloosa blood in his pedigree. His coloring comes from the Knabstruppers in his pedigree. He has rare bloodlines and is an outstanding AES stallion candidate.... (read more) Read the description below for details.

He is only for sale because we are retiring from breeding. We are looking for an outstanding home for this special boy.

Eventing / Showjumping / Dressage Prospect
DOB: March 6, 2019
Breed: Warmblood
Color: Smokey Black Leopard Spot
WFFS1 Negative (Fragile Foal Syndrome)
Height: He's 15 hands on 10-4-2020 and is expected to make 16.1 + hands as an adult
Registry: Anglo European Studbook (AES)
Imported from England

GFS Fire and Ice X Wantasia (Indoctro/Corland/Nimmerdor)

GFS Wildstyle Graffiti is a uniquely marked Smokey Black Leopard Spot (which means he carries a cream gene). He has a gorgeous head, excellent conformation, and outstanding movement. He has an amazing temperament, is excited to learn new things and will stand for the farrier and for putting on a rug. He has a very kind eye, a magnificent presence, and is striking and compelling to watch with his flowing, powerful movement, his lightness of foot, uphill cadence, and sure strides that are well balanced and suited to any of the disciplines of showjumping, eventing, or dressage. He enjoys being around people and is bold and brave, curious and intelligent, and has a kind spirit.

Graffiti's dam is Wantasia, aka Shadow, a KWPN mare with an incredible jumping pedigree. She was retired at the age of six after a paddock accident and before she could realize her true potential in competition. Today she is a valuable broodmare that produced foals of exceptional quality. She is sired by the Showjumping International Keur Preferent stallion, Indoctro, who is considered one of the world's greatest sires. He has had quite a few of his offspring go to the Olympics including Imothep, Amarillo, Vedor, Casadora, VDL Orestus, Don Porfirio and Nike. His progeny consistently win in competitions on an international level and he has sired a significant number of Ster, Keur and Elite mares as well as several approved sons in other studbooks. Wantasia is out of Santasia, a Keur and Sport awarded mare, who is sired by Corland and who's dam sire is Nimmerdor. Corland is Keur En Elite and is from Holsteiner Line 104A, a famous line that goes back to Retsina, who won the Hamburg Derby twice. Corland has a successful career in showjumping with a high jumping index and has sired many successful showjumpers at the International, Grand Prix, and Olympic levels. He has sired several approved stallions and his daughters often achieve Preferent and Prestatie status. Nimmerdor was a showjumping international preferent stallion and the founding sire of the VDL Stud. After a successful showjumping career, Nimmerdor was a very influential breeding sire and had 18 approved KWPN sons, 39 KWPN approved grandsons, which earned him the title of Preferent based on both his own show career and the show careers of his offspring.

Graffiti's pedigree is very impressive on his sire's side as well. GFS Fire and Ice is a Knabstrupper/Kinsky Warmblood x Thoroughbred. He is the first, and so far to date, the only graded double dilute perlino leopard spot warmblood in existence, according to his breeder. His spectacular bloodlines are proven to produce horses that excel in eventing, showjumping, and dressage. GFS Fire and Ice has incredible movement that is elastic and has great extension and elevation. He has a bold, scopey jump, is balanced and is willing to work and please his rider. With a kind spirit and huge heart, he desires to please his rider, is sensible, intelligent and enjoys work. He has a powerful presence that garners attention.

GFS Fire and Ice is by Colourthyme Kajika and out of Folly's Rock. Colourthyme Kajika's pedigree includes rare and sought after Danish Knabstrupper ancestry and Thouroughbred bloodlines that trace back to Eclipse, a legendary racehorse. His dam lines include the Czech Kinsky Warmblood, a multi-talented and highly versatile breed, and also carries the desired Trakehner blood that traces back to Pythagoras / Dampfross and to the Goldolphin Arabian and the Bryerly Turk, two of the three Arabian stallions responsible for the creation of the Thoroughbred horse.

Folly's Rock is a powerful mare with huge movement that was retired from eventing due to an accident. To date she has produced two premium graded foals. Her sire was Rock King, who also sired the Olympic eventer Rock Model. Known for his excellent paces, outstanding jumping technique and wonderful temperament. He won the Stoneways Potential Showjumper and was in the final 12 for the Young Event Horse Class. His career skyrocketed from that point forward and he was competing at the advanced level and had accrued over 200 BE points but during the Tweeseldown Horse Trials in 2000 he sustained a fatal injury. Rock King was sired by the Thoroughbred stallion, Just a Monarch whose offspring include many International Eventing horses such as Kings Jester, Midnight Monarch, and Just an Ace and Mark Methane who won over 30 races. Rock King's dam Rockys Double and his grand dam, Farley Mount, were well known for their ability to produce outstanding eventing horses such as Double Trust, Alfresco, Kilcashel, and Trust In Me. Folly's damsire is the legendary Bohemond, a HIS Premium stallion and sire of Withcote Nellie, an Olympic eventing mare. He is also the damsire of Badminton, the NZ WEG Team horse Classic Monet. Folly's dam's dam was Spring Fidgit, a Thoroughbred Connemara cross, which is where her golden color and refined head comes from. Folly's sire and dam can both trace their lineage back to the renowned Pharos with many outstanding and well-known racehorses filling their pedigrees.

GFS Fire and Ice produces exceptional offspring that have excellent conformation, movement that is athletic and rhythmic, and a balanced agility with powerfully built bodies that are straight of leg, with strong necks and outstanding headsets and incredibly extraordinary temperaments.

We are very excited for Graffiti to grow up and have a show career of his own. We expect to see wonderful accomplishments from him in the future.
---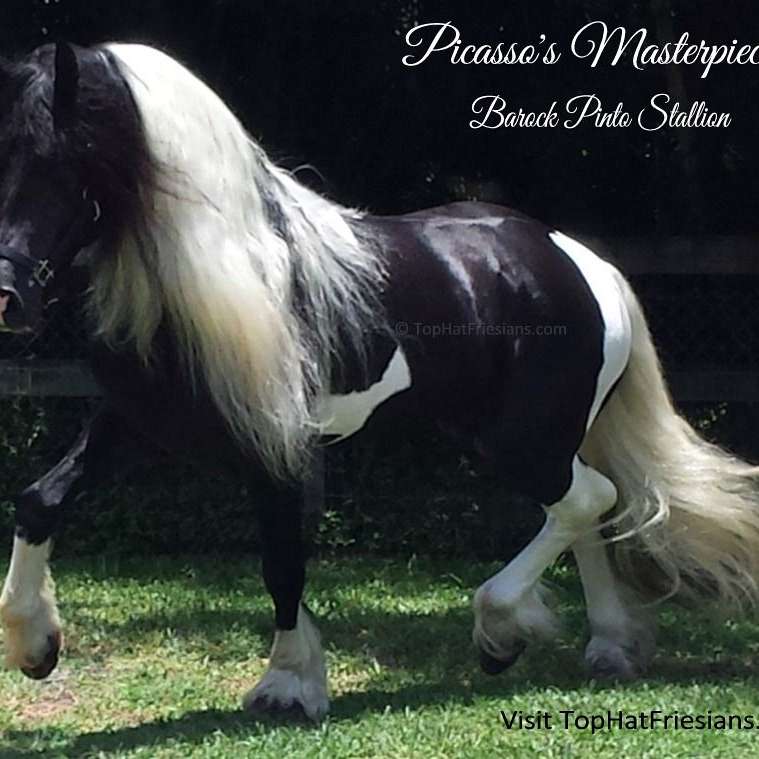 Top Hat Friesians and Barock Pintos
Breeders of KFPS Friesians and KWPN Barock Pintos