Skills / Disciplines

All Around, Athletic, Endurance, Gaited, Horsemanship, Natural Horsemanship Training, Parade, Ranch, Ranch Work, Roping, Show, Trail, Trail Riding, Trick, Western Riding
Additional Comments
Eclipse is a 6 year old Tennessee Walking Horse gelding. He is solid black with a small white star on his face. He stands 14.2 and has a thick mane and tail. He is easy to get along with and has a very friendly, outgoing personality.

Eclipse has great groundwork anywhere you go. He will lunge at all three gaits with a soft feel. Ive lunged him over many different obstacles as well and he is always very willing to try something new. He will also round pen, flex, side pass and back out of your space all with very minimal pressure.... (read more)

He is also very gentle in other aspects of handling. He runs to the gate to be caught, is great for our farrier/vet, lowers his head for bridling and is also easy to bathe and clip. He will load into any trailer and also stand tied quietly for hours.

I will honestly have to ride another 100 gaited horses before I find one this talented! He has no pace under saddle and will gait on a loose rein. He will speed up and really rack on but is happy at a walk or a slow gait as well.

On top of having a phenomenal gait, he has a lope to die for. He steps into both leads with ease and has the smoothest, rocking chair lope. He will lope on a loose rein or ride collected and soft.

Eclipse has what most people like to call a fancy handle. He will spin/turn around, side-pass and counter bend. Not to mention he has got a great stop at all three gaits and will run backwards as well. At home and in the arena I ride him in a snaffle bit. When I show him and ride him outside I ride him in a short shank with a smooth snaffle mouth piece. He will ride one handed or two. I have roped a dummy off him and drug tarps, barrels and logs as well.

I have put a lot of steady miles on Eclipse. I ride him solo through town and down the road frequently and he always does great. I have also hauled him to a bunch of different arenas to show and to a variety of different trail riding locations as well. He is always friendly towards other horses and rides calmly in groups.

On the farm he has been ridden around cattle, through ponds, around tractors/other farm equipment as well as rode through ditches and gullies. He has always been a gentlemen and takes very little convincing to go through or over something.

Eclipse is also a phenomenal trick horse. He will lay down both from under saddle and on the ground as well as sit up.

This is a young, incredible horse that will somebody will enjoy throughly for years to come. NO papers, but if someone were to take the time he could be registered "Racking".
Shipping Notes
Can Help Arrange Shipping at Buyers Expense
---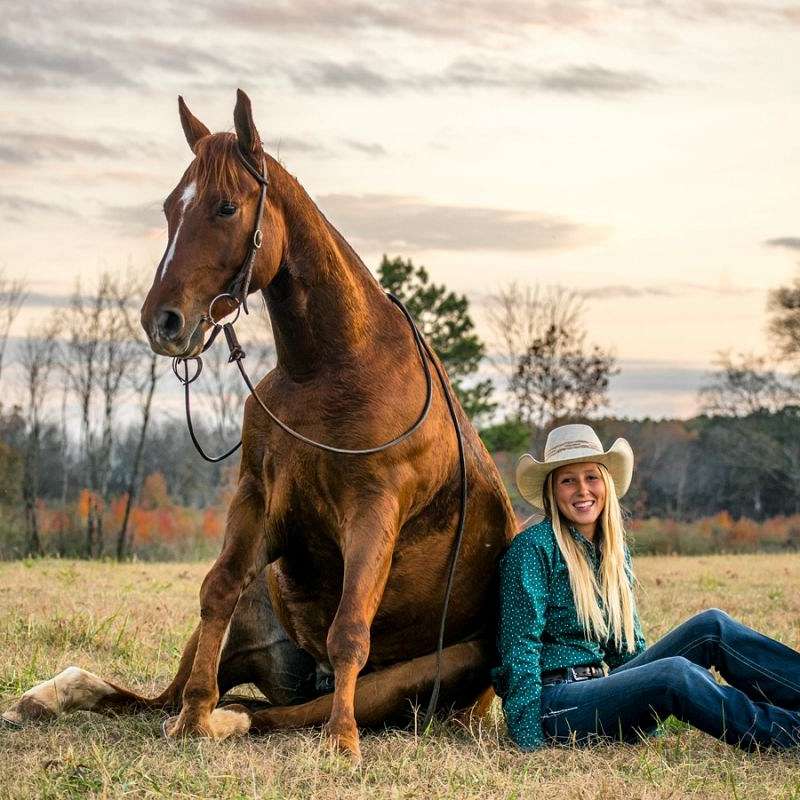 Double C Horsemanship Training
Selling good quality performance, trail, and trick horses. All diffirent breeds, sizes and colors. Contact me today so we can find your next forever partner!