Skills / Disciplines

All Around, Experienced, Foundation, Finished, Flashy, Gaited, Natural Horsemanship Training, Trail Riding, Trained
Additional Comments
How do you put a price on safety AND a smooth, effortless trail gait?!

Everyone is looking for that SAFE, sound, easy gaited trail horse. Here he is. Started out right and ready for many years of riding he has ahead of him!

RMR's Impulsive Drifter
Barn Name: Drifter
DOB: May 4, 2016
RMHA # 2016484842
Current Height: 14.1hh
Expected Mature Height: 14.2hh
Color: Black
RMHA Pedigree Database Link: visit our website

Drifter was the type of horse that was born broke.... (read more) Like his older sister, he took to under saddle training with complete ease. Drifter was born and raised on the farm. His Dam is known for producing very laid back, easy to handle, well gaited, and well built offspring (we should know, we are hoarding all of her children!). It doesn't seem to matter who his mom is bred to, the result stays consistent! Gait, disposition, build, and beauty all remain! Drifter is the first of her offspring that we are offering for sale. Just about anyone that has ridden a horse, can ride Drifter no problem. We have even put a true blue beginner on him and both did very well!
Drifter was taught all of our basic groundwork at a young age. Lunging both directions, flexing neck both directions, yielding front and hind quarters, backing, leading, tying quietly, standing quietly for farrier and vet needs, trailer loading/unloading, and extensive desensitizing.
Drifter loves the trail scene and is ideal for someone looking to enjoy the trails and gait into the sunset! Drifter will cross water, mud, down trees/logs, walk up and down hills, gait on a loose reign, transition from gait to walk and walk to gait with ease, stand quietly for mounting and dismounting with or without a mounting block, stump, picnic table, or other aid, stand quietly for saddling/unsaddling, pop his own trails through the thickest brush, lead, follow, or ride in the middle of the group, go out on his own, and will leave the group with minimal to no fuss. Drifter picked up his gait instantly when started under saddle, and can easily maintain gait while on a loose reign.
Drifter is royally bred, but like I said before… his type is all his mom seems to produce! You really can't go wrong with one of her foals! He has a very nice foundational based breeding consisting of Kilburn's Chocolate Sundown, Maple's Squirrel, and Sewell's Sam as his great grand sires.

Current Negative coggins on file. RMHA Certification pending.

Price: $10,000

Shipping available at an additional fee - Ask for a quote!

Contact information:
Bonnie Orlando
Email: our email address
Facebook: Rocky Mountain Run Horses
Phone: our phone number

Other geldings also available and an occasional mare/filly.
2020 foals also available.
Shipping Notes
Options Available
---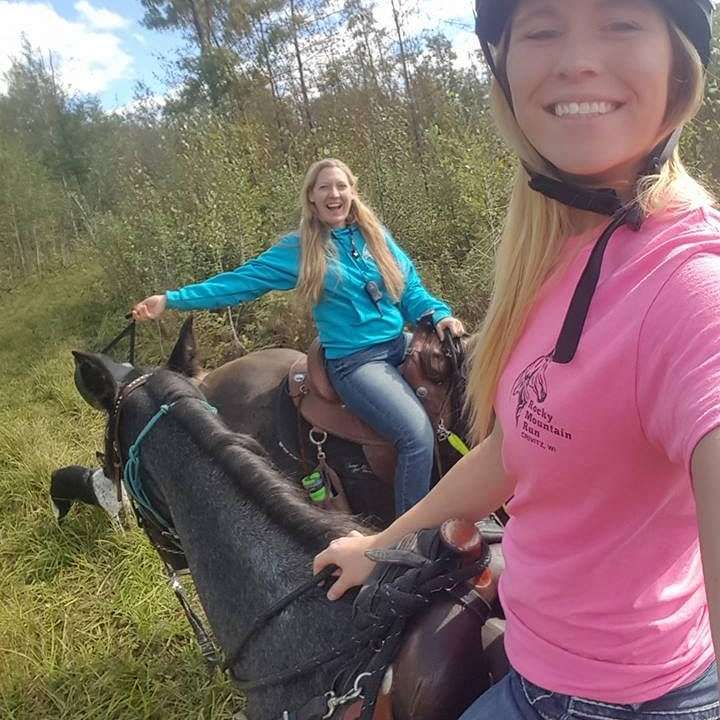 Rocky Mountain Run
We work to keep the foundation of the Rocky Mountain Horse breed alive by carefully selecting our stock for their conformation, gait, and pedigrees. Our stallion, Impulsive Ghost, is foundation bred with a 53% genetic link back to the foundation sire TOBE which is rare in the breed today. Ghost offers unique color that crosses well with ANY color mare (Ee/nCr). We have added a second stallion to our breeding line up for 2018.... (read more) A Chocolate roan (EE/Rn/nZ) stallion, Bits, by Sonny's Sliver Dollar and out of a Nuncio/Johnson's Toby mare. He is a proven producer with several foals on the ground in Canada, Ohio, and Kentucky. All of our brood mares are hand picked for their temperament, conformation, gait, and pedigrees which complement Ghost and/or Bits. Besides breeding, Bonnie raises and breaks her own stock using natural horsemanship methods. Don't let our location scare you! We enjoy traveling and can work with you on shipping or delivery! Contact Bonnie to find the perfect trail companion (or rail prospect)!