Skills / Disciplines

Athletic, Blue Eyed, Finished, Flashy, Ridden English, Ridden Western, Trail, Trail Riding, Trained, Western Riding
Additional Comments
Justice is a really fine mare. She's 14 years old and stands 15 hands tall. She has a gorgeous blue eye on the right and a brown eye on the left. She will walk/trot/canter with the slightest request from her rider. As you can see from the video on our website, all that's required to get her to canter is to lean forward, shift your body weight, and touch her side with your heel. If you ride English, she has a nice trot for posting.

Crossing creeks, bridges, and mud are no problem on this horse.... (read more) She's a confident trail horse. She isn't spooky, and she will ride out without her pasture mates. She loads and travel well. You can pick out all 4 feet and bathe her without any issues. In the pasture she gets along well with both mares and geldings, and she's easy to catch. So if you want Justice; buy this mare.

People always ask why we're selling our horses. There's nothing wrong with them. Quite the contrary. They're for sale because it's part of our business model: we buy, train, put lots of trail hours on them, and make them safe for beginners, and eventually we sell them at a profit to compensate us for all the training and trail hours we have put on them. We don't have to speculate as to what age or riding level a rider needs to be at in order to ride them. We KNOW because they've done it many times over. If we say a 6 year-old child with no riding experience can ride the horse, then they can - and have. And if we say we wouldn't put anyone younger than an inexperienced 10 year-old, then you shouldn't consider the horse for your 5 year-old to ride on their own. All our horses sell as sound with no vices and are current on negative Coggins, de-wormer, shoeing, and teeth floatation. We leave the shots up to you since different boarding facilities require different shots and most will only recognize the shots as having been given if administered by a licensed veterinarian. Many of our horses for sale are listed on DBF's Equine Now Farm Directory page, but to see all of our horses for sale, schedule time to come see them at Dead Broke Farm. Prices listed are firm.

Dead Broke Farm
6921 Wildlife Trail
Raleigh, NC 27613

Carla 9one9-323-1265

For anyone buying their first horse, we also sell new and used saddles, bridles, saddle pads, as well as new winter blankets, halters, lead ropes, and horn bags (as seen in the photos). The big advantage to buying these items when you buy the horse is that we will fit everything for you, so it takes the guess work out of sizing and fitting of saddles, bridles, and winter blankets. Then you can feel confident that the horse will perform the same at home as it did at our farm.
Shipping Notes
Will deliver for a mileage based fee.
---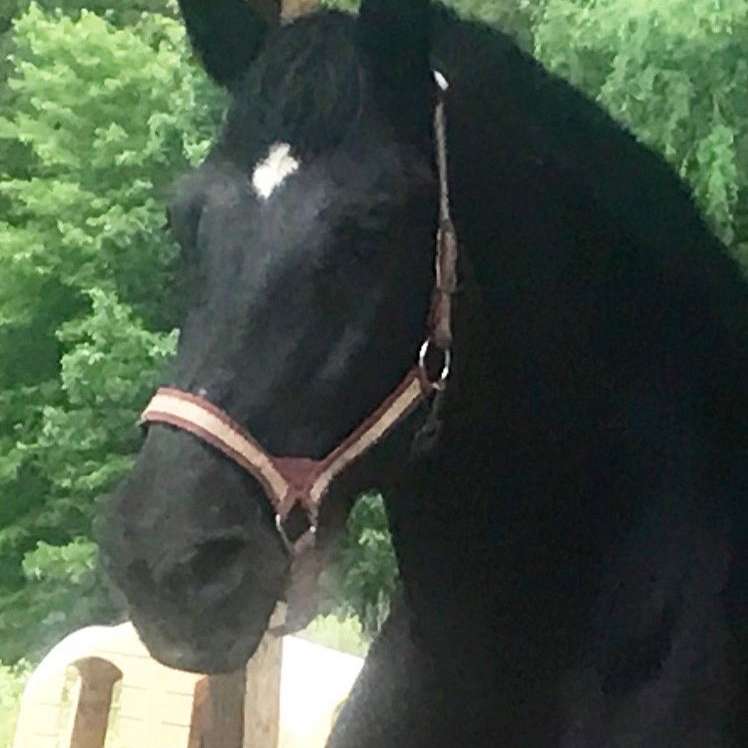 Dead Broke Farm
Dead Broke Farm is located in Raleigh, NC on 110 acres with over 10 miles of wooded trails. We offer guided trail rides, summer and track-out camp, western riding lessons, pony rides, birthday parties, and horses for sale.