Skills / Disciplines

Breeding, Color Producer, Show
Additional Comments
SHOW QUALITY, THERAPY HORSE QUALITY, NEAR LEOPARD, LOUD SPOT, SMOKEY BLACK APPALOOSA COLT - FUTURE HERD SIRE

For Sale - Serious Inquiries Only - I have decided not to breed Falabellas due to the time commitment involved with the Barock Pintos and Warmbloods so the herd is for sale.

Born 3-6-2019
Expected Mature Height - 29-31"
DNA results are: Heterogyzous for Black (Ee), Cream (nCr), Primitive Markings (nd1/nd2), Appaloosa (LP/lp) and Pattern 1 (n/PATN1) and negative for everything else.... (read more)

Storm is one the last foals sired by The Legendary Falabella Guille, one of Julio Falabella's favored loud black leopard spot appaloosa's, and one of his original Argentine Imports that cost him $30,000 to bring into the United States. In 1997 The Legendary Falabella Guille won 1st place in harness and color at the Miniature World Event. In 1998 he won five 1st Place Titles at the Fireworks Miniature Horse Show and four 1st Place Titles at the Dixieland Jamboree. We believe that Storm can be just as successful in the show ring as his sire. His flashy coat pattern will get attention in the show ring. Storm is expected to mature between 29 -31" as an adult.

We believe he'll produce beautiful show quality foals. He's the last of an amazing heritage and linage that would be a fantastic high quality addition to a breeding program. Both testicles are descended, he has a wonderful, sweet temperament and loves being around people. He gets along well with the fillies and our two 12 year old American Miniature geldings. Storm will nicker when he sees you and greets you at the stall door. I call him our little "love bug".
---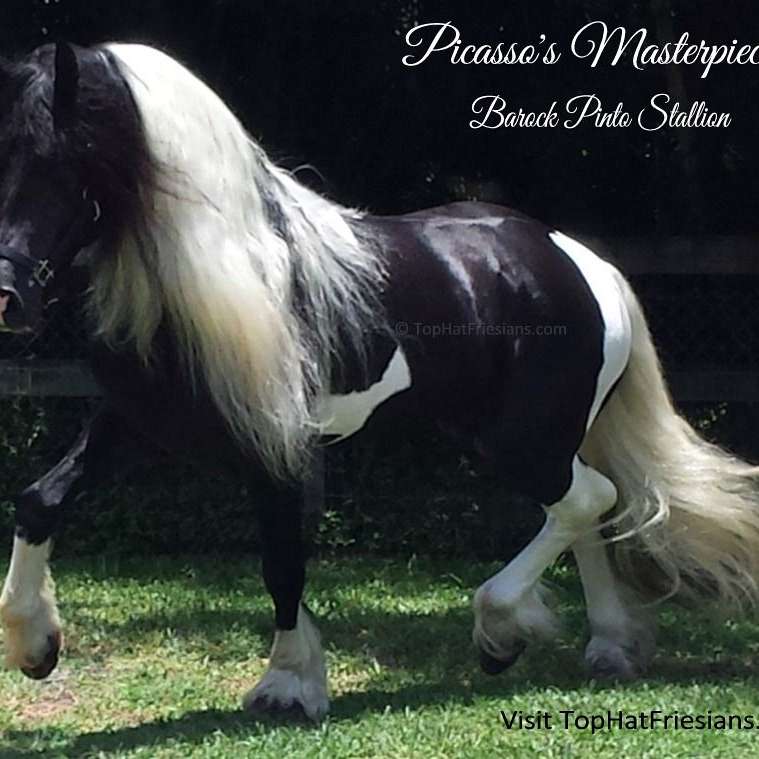 Top Hat Friesians and Barock Pintos
Breeders of KFPS Friesians and KWPN Barock Pintos