Skills / Disciplines

Athletic, Longe Line, Natural Horsemanship Training, Project, Started Under Saddle
Additional Comments
By Figaro R 1085 (by Florestan I) out of Palomina (Maraton-Palermo-Herkules)

A 2016 chestnut Swedish Warmblood mare, she is currently 15.2hh and expected to mature around 16hh. Felicity was rated Premium in her foal inspection, with comments from the judges including: "ground covering walk and canter", "good suspension and elastic movement", and "great conformation". Felicity has been worked with greatly in groundwork, desensitization and lunging.... (read more) Lightly started under saddle, she has shown great willingness and responsiveness to learn and please her rider. Currently working on basic lateral movements, she has the talent, confirmation, and pedigree to take you as high as you want to go, with the sweet personality that everyone would love. Not spooky or flighty, Felicity takes new things in stride fairly quickly without a lot of fuss. She is one of the first ones to greet you at the gate, stands for the farrier and loads easily.

Sire: Figaro R 1085 (Hanoverian, approved Swedish)

By Friendship (by Florestan I), out of Florida (by Feiner Stern-Werther-Grunewald), Figaro was Premium stallion at the Hanoverian licensing at Verden in 2003. Then, in 2005, he was Champion at the Swedish Warmblood Stallion test with the highest dressage index (22.0 points) ever achieved with perfect scores of rideability from two German test riders whose comments included, "Gives very good feeling in all three gaits. Very attentive to the aids and perfect contact with the mouth. Nice horse to train!" and "Very good to ride, well trained horse. Three good and easy gaits. Good increases where the horse will go forward from behind." He was schooled to Grand Prix by Rose Mathisen and competed through Prix St. Georges before sustaining an injury. While this took him out of competition in Europe, he is still sound for riding.

Figaro is a successful breeding stallion with over 400 offspring around the world, including two finalists in the World Breeding Championships for Young Horses in Verden. One of his sons and grandsons are approved as breeding stallions in Sweden. Figaro's breeding value for the Swedish BLUP system is well above average at 129 (the mean in 100, standard deviation is 20). He was awarded Premium A status as a breeding stallion by SWANA in 2015. In 2011 and 2012, he was the Breeder's Trophy Stallion of the Year in dressage and in the top twenty listed of Most Used Dressage Stallions in 2010. Including Swedish (ASVH and SWANA), he is approved Hanoverian (AHS & VHW), Westphalian, ISR/Oldenburg, Rhinelander, and Danish.

Figaro's semen has been 90% motility with good results. More than 25% of his offspring have received Diplomas for Gaits at their Three Year Old Inspections. His offspring include: Barcelona (Winner of the Breeder's Trophy Final for 6 yr olds in 2012, finalist in the World Young Horse Championships, placed 4th in 7 year olds at Falsterbo in 2013), Faustino 1244 (Approved Stallion, Winner of Breeder's Trophy Finals in 2011 and 2012, winner at WCYH in dressage at Flyinge with a score of 79.2), and Falco (placed 5th in Breeder's Trophy Final in 2011 and 2012).

Figaro passes on not only his beautiful, floaty gaits to his offspring, but his incredible personality. His offspring regularly show a very kind, gentle and smart nature. They have been are often quick to learn and easy to train with a willingness please.

Dam: Palomina (SWB)

By Maraton (by Utrillo), out of Paljett (Palermo-Herkules-Flamingo), Palomina was imported in utero, rated Class I at Swedish Inspection, had 2 foals both rated Class I, then competed to Prelim Eventing before becoming a lesson horse/broodmare later in life. Palomina was in foal with only one insemiation both in 2015 and 2016! After weaning, this mare became an active member of a Swedish Quadrille Team and outstanding school horse for jumping.

Maraton 600, by Utrillo (by Ernoe), out of Fairy (Caracas-Fairey-Yngve I) sired Jirlow 768, Magari 716, Magini 695, Milan 717, Miroco 718, Umido 728 and is the grandsire to Nactus 854, Oalle 1046, and Briar. Among his six approved sons, he has 54 approved diploma daughters. Over 20 of Maraton's offspring compete in high classes such as the World Champtionships, Grand Prix, and Olympics. Maraton passes down his beautiful movements and superior jumping ability. He has left behind offspring that excel in dressage, jumping, and 3-day eventing and was placed in S-level jumping prior to his passing at age 32. Maraton was awarded Breeding Class E (Elite) in 1993.

Paljett was the daughter of Palermo (by Hertigen) out of Heba (Herkules-Flamingo-Urbino). Palermo sired over 200 offspring in Sweden that compete across jumping, dressage, and 3-day eventing. A world class dressage stallion, Palermo competed in M and S class competitions.
---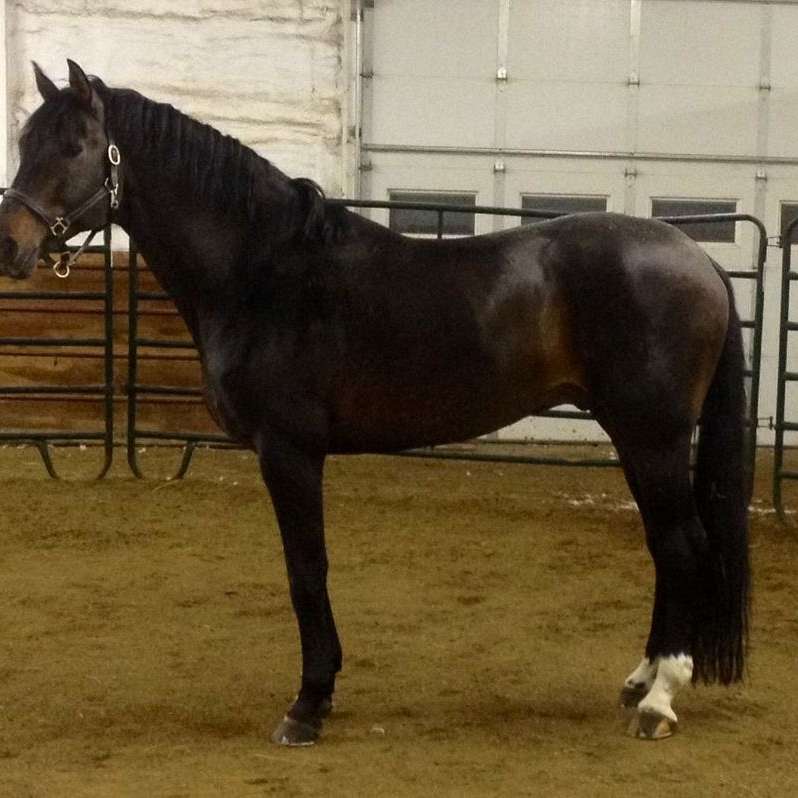 Brady Equestrian Center
Brady Equestrian Center (BEC) occupies 86 acres in Downer, MN (Fargo/Moorhead area) in northwestern Minnesota. We breed Swedish Warmbloods and Thoroughbreds, and also offer boarding, breeding, lessons, training and educational programs.