Skills / Disciplines

Athletic, Barrel, Beginner, English Pleasure, Equitation, Gymkhana, Kid Safe, Lesson, Longe Line, Parade, Playday, Pole, Ridden English, Ridden Western, Trail, Trail Riding, Youth
Additional Comments
Bellow is a link to a YouTube video of Essy. It's 26 minutes and it'll give you a good idea of Essy's abilities. All video has been taken within the past couple of years, but most as recently as 2 weeks ago.

Watch Video

My 10 year old daughter rides her on trail and the arena. Together they won second place in speed barrels in this year's gymkhana. It was my daughter's first time ever and it was the only class they entered.... (read more) Essy has also been ridden by my 12 year old son, who shot balloons off of her, and by my 8 year old, who is just beginning with horses. She is currently being ridden as a lesson horse for a 12 year old girl with mental disability. She has done high-fashion shoots and film work. She loves the water- crossing or staying in it. Trailers in any trailer. She is 20 (documented by an Equestrian Dentist- Dr. Richard Miller). Perfect health and sound barefoot. Vet checks welcome. She WILL pass. She has never had colic, came lame or any chronic problems. The only reason we've called the vet for her is because she had a tick in her left ear once, and the second time she ripped her eyelid and needed stitches. She was checked by 2 vest and both said that her eye sight hasn't been affected at all. Slight scaring is visible from the stitches, but keep in mind she did a few of her modeling gigs after, so not really a big deal to most....
She is more of a bottom mare. By nature, she is a hot blooded horse and is very sensitive. She is not spooky. She needs a confident leader, who is calm and not aggressive, but rather comforting in his/her assertiveness.

Essy Beautiful Gray Azteca Mare. Her beauty has landed her 6 high-fashion shoots. She was also part of a documentary being ridden by and 8 year old boy. She did great! 

She is a very personable and loving horse once she gets to know you. Easy to catch and faithful. She is a great trail and/or lesson horse, or show horse!

She has been riden by many people, from hefty men to children. She would NOT buck or rear even when provoked, however she does not ground-tie on the trail and will go home without you if you left her unattended. She is very sensitive and responsive to the slightest cues, including verbal commands. Transitions smoothly through all gates. Rides English, Western, Bareback, Tandem. Sidepasses, disengages her hindquarters, jumps over logs. Not spooky at all. Bicycles, dirt bikes, motorcycles, cars, trucks, blowers, tarps, water, wind, brush, dogs do not bother her. She lives among other horses, including minis, as well as goats and sheep and does great. Running, screaming children do not bother her. Ties, trailers, bathes well. Stands still when tack is put on her. Not cinchy. Good ground manners- will never kick or bite. Picks up all her feet easily and stands for the Farrier. Smart and fast learner.

She has been in great health, has never had colic. Sees the Ferrier every 6 to 8 weeks for a barefoot trim. She has had regular dental care and her teeth are in perfect condition. She was last seen in August 2018 by Dr. Richard Miller - Equine Dentist. I have her records.

An advanced beginner, or intermediate to advanced rider with gentle approach and confident leadership would match best with Essy. I define an advanced beginner as someone who is comfortable riding at all 4 gaits (walk, trot, canter/lope, gallop) and understand basic communication between horse and human and knows how to correct a horse.

I would like to have a short interview with potential new owners and if it seems like a good fit, I'd request that they devote a minimum of a couple of hours to spend with me and Essy so I can relay the communication and training methods Essy is used to in order to ensure a great partnership. Riders who are experienced and well-versed in "Natural Horsemanship" would not have to take a lesson. But if you are a beginner, or someone who had a horse as a child and is coming back to horses many years later, would have to pay for at least 2 lessons at $45 per lesson to be considered as a new owner. If you are out of California, lessons would not be required, but an over the phone evaluation will be necessary. The Bill Of Sale would state that you cannot ever sell Essy at an auction for any reason, and that if you have a life-changing circumstance and can no longer care for her and cannot find a suitable home for her, she will come back to me. No refund of purchase price will be given.

A loving, caring home is a MUST!
If you ask me if Essy is bomb-proof, I'd say: "Yes, absolutely, with the right rider on her." Because, I don't believe that any horse is bomb- prof with a rider who is distracted, or simply doesn't know how to communicate with horses. She has been very good to us.

The reason I'm selling her and another 3 horses is because my son's don't ride anymore and we are a rescue and have too many horses to care for and train.

Bellow is a link to a slide show with a ton of pictures representing her experience.

To see the slide show please follow the link below.

Watch Freedom Ranch - Essy (Azteca)

If interested in her, please call/text 213 925 3169

Shipping Notes
I could deliver for a fee depending on mileage.

Shipping Notes
Will deliver for a fee based on mileage.
---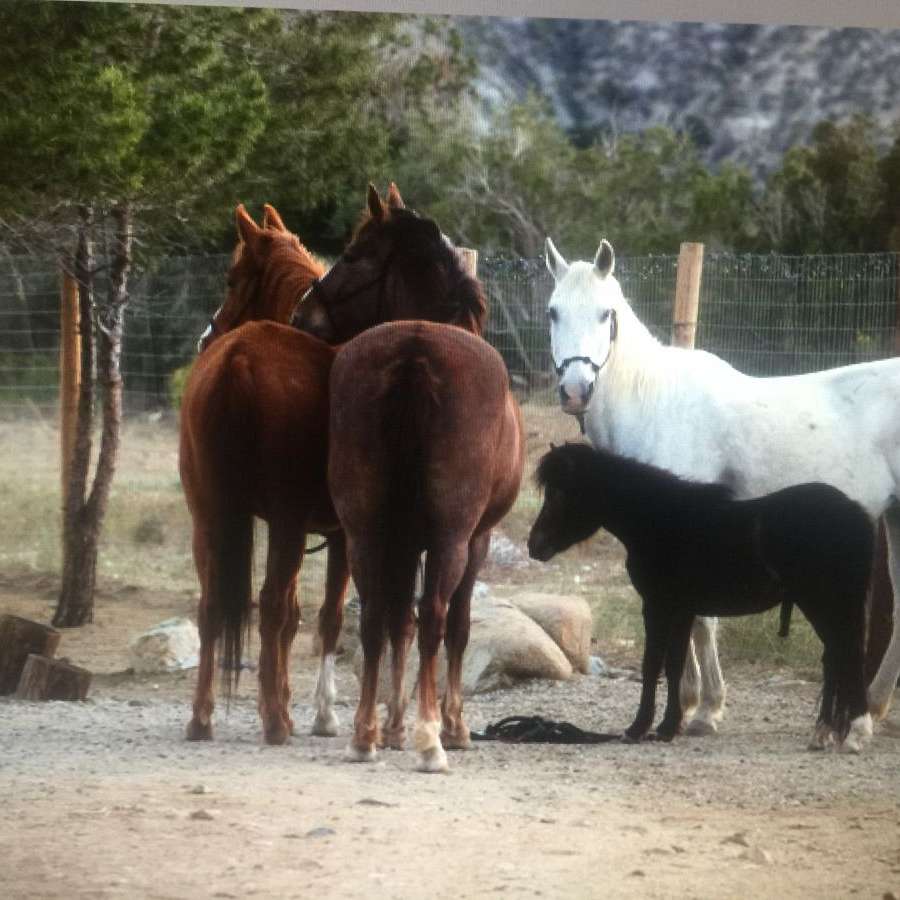 Freedom Ranch Equestrian Connections
We believe in forming deep connections and partnerships with horses. We have a multifaceted and wholistic approach for dealing with these highly intelligent, highly capable and diverse individuals:) We also help people understand their horses better and create a great bond. When we rescue, rehabilitate, retrain and re-home horses, we always do our best to match them with the perfect human for lasting and enjoyable relationship.... (read more) We try to inspire youngsters by providing Ranch Visits and Parties with ponies and horses, so that the fun and unique experience of their first ride, plants the seeds of the future horse lover. We also serve the Photography, Film and TV artists, so that they can bring their visual magic and The Horse closer to people's hearts. We understand that people have different interests and goals for themselves and their equine partners, therefor we try our best to provide support with boarding, trail riding, as well as English and Western riding disciplines. We do train competitive ridiers and their horses in a way that the strength of their bond warrants their outstanding performance. We are situated in the High Desert Hills next to the Los Angeles National Forest and the Devil's Punch Bowl County Natural Area. There are beautiful trails at about 4,750 ft (1450 m) elevation, with scenic views of the tilted sandstone formation on the northern slopes of the San Gabriel Mountains. We have washes on both sides of our property where you can spot a variety of wildlife. In the winter, it is not uncommon to get some snow here. If we had enough snow fall in the nearby mountains, streams run through the washes in the spring. We also see the rainbow here every time it rains, because the sun is always present over the land during the day. We have about a 2.5 mile gorgeous trail surrounded by Joshua Trees, right out of our gate. It is a great place to let the horses go fast, or enjoy a slower pace and take in the beauty. We also have beautiful mountain tops where you will witness a 360 view of the entire Antilope Valley, as well as lots of dirt roads.