Skills / Disciplines

Athletic, Dressage, Endurance, English Pleasure, Equitation, Experienced, Gymkhana, Horsemanship, Mounted Patrol, Native Costume, Parade, Playday, Ridden Western, Showmanship, Trail, Trail Riding, Trained, Trail Class Competition, Western Pleasure, Working Cattle
Additional Comments
Gosh this is a nice horse. I can't believe I haven't had anyone here to try him out yet. We took him to a competition this past weekend and he was a rock! He traveled quietly, ate and drank well, and stood great at the hitch rail (I think he only whinnied twice the whole weekend) He did a 30-mile Limited Distance ride on Saturday and we couldn't have asked for better. He was forward, confident, and sure-footed on the trail. Stallone was a gentleman for the vets and he also had very good recoveries for a big guy....... (read more) can you believe an exit CRI of 9 and 8??!!
I have reduced his price to $1800.Somebody is going to get a great deal on an excellent trail or distance horse.

"Stallone" is a black, 16 year old grade, half-Friesian gelding. His other half is Arabian/Tennessee Walker. He is a big-boned horse who stands just a hair under 15.3H. (sticked. The gal in the few picture is 5'11").
Stallone is a super trail horse. He is brave, forward, and not spooky. He rides well by himself, and likes to lead when he's in a group. He crosses water, mud, bridges, and handles rugged terrain with an adventurous attitude. He neck reins, gives to leg, side-passes, two tracks, and backs nicely.
He is not a plodder but he will walk on a loose rein. Stallone has very comfortable gaits at walk, trot and canter. He covers ground with his long stride.
This gelding has an extroverted, fun personality, so he is best suited for a rider who also is confident and who isn't afraid to tell him "left" when Stallone wants to go right. Once the rider establishes that, he's a blast to ride, and doesn't question again. He is middle of the pecking order in the herd. He really is a sweetheart...very personable and loves to be with his person.
Stallone trailers, pickets, and camps well and is great with other horses around him.
No bucking, rearing, biting, kicking. Stands solid for mounting. Good ground manners and he's an EASY keeper. Up to date on dental, hooves, deworming, vaccinations, and has a current coggins.

$1800.00 obo. Feel free to call, text or email me for more information about Stallone.
---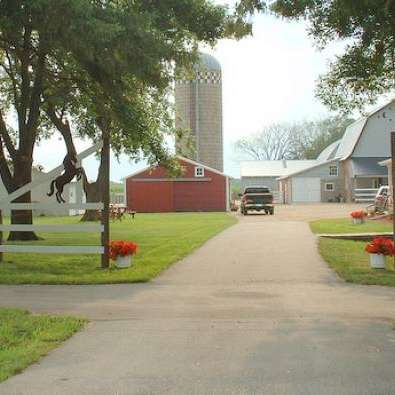 Fort Ridgely Equestrian Center
Our farm is located just north of Fort Ridgely State Park, in the scenic Minnesota River Valley. We offer full boarding, guided trail rides, lessons, and training.