Skills / Disciplines

All Around, Athletic, Barrel, Barrel Racing, Experienced, Finished, Heading, Heel, Dun Factor, Ranch, Ranch Work, Ridden Western, Rodeo, Rodeo Pickup, Roping, Steer Roping, Steer Wrestling, Team Penning, Team Roping, Trail Riding, Trained, Trail Class Competition
Additional Comments
Registered Quarter Horse Gelding
Dun
14.3 hands, stocky build for any size rider
8 years old
This is King, one of the best broke horses that you will ever find. He is that one in a million horse that everyone is looking for. He is the perfect size and is of foundation stock so he is stocky enough to carry any size rider. He is as sweet as pie, and just loves attention, but is not a horse that has to be ridden every day to be the same every time that you get him out.... (read more) He can sit for a month or so and then be the perfect gentleman when you get him out to ride him. He seems to never have a bad day and is always out to please you. He has been our "got to" horse for any new rider that comes to the farm as we know and trust that he would never hurt anything. His ground manners are just impeccable and he will stand for hours for you to do what ever with him on the ground. While he is safe enough for a beginner, he is extremely fun for an experienced rider as he just loves a new adventure. He is a very skilled and experienced trail horse and will go absolutely anywhere that you ask him to go as he will trust your direction. He is very easy to ride and work with, and has been trained to lay down on command while you are in the saddle, and will do that for anyone. He can be ridden bareback, in an english saddle, or western. Nothing phases him at all. He is never spooky and we can rope anything and drag it with him with no issues and crack a bull whip off his back. He is wearing shoes all around as we do a lot of riding on the road and in rough terrain. He is lovely to take out on the trail alone, or he rides great in a group and will lead or follow with no issues. He has a fantastic ground covering walk, that is wonderful for those long days on the trail and he seems to never tire of anything. He is just a blast to ride and is also very comfortable as well. He will neck rein, direct rein, side passes, helps you open gates, he knows both his canter leads and would make an outstanding Ranch pleasure horse as he has beautiful movement and is very responsive without ever being a hot horse. He has been ridden in indoor arenas and all types of outdoor arenas and he does great no matter where we take him. He trailers well in any type of trailer, and will go through any depth of water, we have even swam with him. I really can not tell you enough about this amazing horse, as he really is that horse that everyone is looking for, one outstanding Equine. If you are looking for that horse that is fun enough and quick enough for roping and penning events but need an extremely safe mount for anyone else then this is your guy. If you feel that you are the right home for him, then please feel free to give me a call as I respond better with phone calls.
---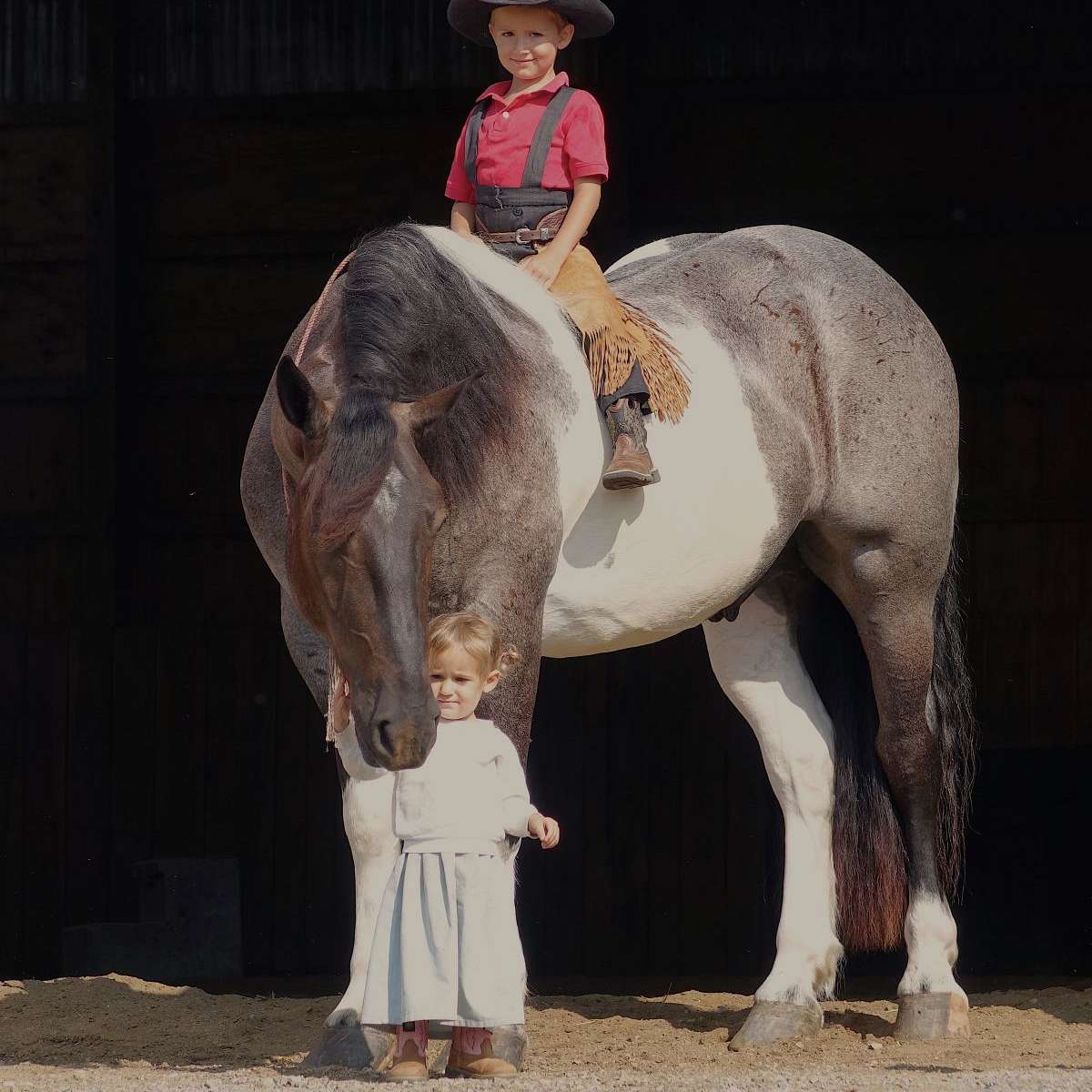 Buckeyeacre Farm
We specialize is very safe, sound, well trained horses that the entire family will enjoy riding. We have quarter horses and draft crosses that we take the time training them to make sure that they are safe, reliable horses for years to come for their new owner. We have been placing our well trained horses in new homes for over 15 years. We stand behind all our animals, and strive to find the best home possible for each horse.... (read more) We have been truly blessed that when our horses are ready to present and we place them up for sale, they do not last long, so if you see something you like, please do not hesitate to call so that you do not miss out on the chance to own own of these beautiful, sweet equine partners.