Skills / Disciplines

Longe Line, Natural Horsemanship Training, Working Cattle
Additional Comments
Some folks brought a horse to us to put some natural horsemanship time into and after evaluation, we've decided he does not match their situation. Sunny is a more advanced horse for an advanced rider. 15 hands and 1100 lbs. It's time to send him to a working home which is where he come from. Sits back on the lead rope when tied hard when he feels threatened by inexperienced folks. If he's not tied solid, no problems. Approach him in stages helps him get past this.... (read more) Jumps away from folks that creep around or act weird. Has a wonderful personality and generally likes people and has a good attitude. Very willing. Prefers someone VERY EXPERIENCED with handling tools not a pet. He can tell from the moment you put the halter on if you are experienced. Would be best suited for a young cowboy looking for a gelding to get by on while working. We put him on a retraining program, and he's making good progress. Giving his new owner some good tools to combat the quirks that come with him. Good feet and stands for a quiet knowledgeable farrier. Hauls well. He's been no problem within our barn. Great handle for sure. One hand broke. Rode by elderly women and children before he had his confidence busted. Plenty of video of his retraining and riding to show his handle and general demeanor. MUST GO TO A KNOWLEDGEABLE HOME where he can work hard for his new owner. Too nice a gelding with a good handle to sit in the pasture anymore. MUST try him to buy him. Located in Rose Bud, AR.
---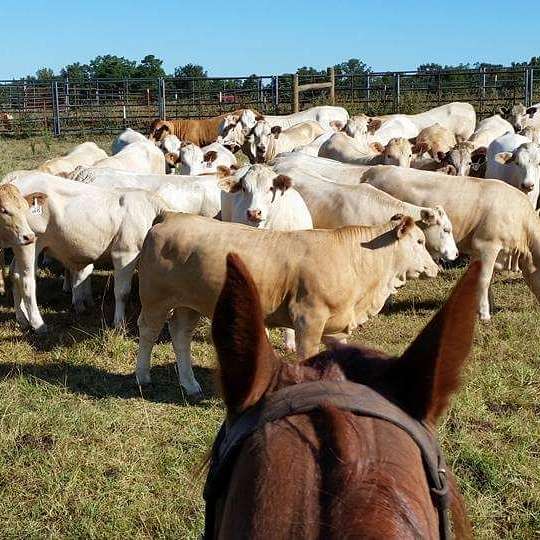 Riddle Cattle Company
We steward and raise crossbred beef cattle in the great state of Arkansas. Each year we build several preconditioned stocker and replacement heifer groups all worked from horseback. We enjoy turning out some good working ranch and kid horses throughout the year. Call Mo at 501 691 0048 for more information on any of our working horses or to fill your farm with some quality beef to fit any business plan. Grass fed beef available. Lane Riddle, Operator.