Skills / Disciplines

All Around, Athletic, Companion, Cross, Draft, Dressage, Driving, English Pleasure, Eventing, Experienced, Field Trial, Finished, Flashy, Flaxen Mane, Harness, Husband Safe, Mounted Patrol, Natural Horsemanship Training, Parade, Penning, Pleasure Driving, Ranch
Additional Comments
Gorgeous Draft Cross Geldin
15.3 almost 16 hands, stocky
5 years old
Trained to drive single, double, ride english or western, has been roped off of, did team penning, competed in trail competition classes, will go over jumps, water, logs, anything you ask him to do, he will try and do it.

This is Cisco! He is truly a gem of a horse, he is the one that once you have him, you will never find a better one out there.... (read more) The only reason that he is being offered for sale is because his owner that has raised him since birth got very ill and is going to be in the hospital for a long time. This guy has quickly become a favorite horse in the family and is going to be hard to sell, so a great home is a must. Cisco was started when he was 2 and they rode him with a halter and lead rope bareback all over. Then when he was 3 he was trained to drive, and he is a fantastic driving horse. He can be hitched by one person and drove by anyone with little to no experience. He will stand perfectly quiet for you for as long as you ask him to. He has such a willing and loving personality that just wants to please you with what ever you ask of him. He has never been mistreated and therefore would never mistreat a human. He has been ridden mostly in a western saddle and his owner took him to all kinds of western events like team penning, team roping, and was also in a lot of trail competition shows. I have been riding him in a dressage saddle, and he never acted like there was a difference. He is a horse that when you call him, no matter what time of day, he will come running to meet you at the gate for what ever you need him for. He does not have any bad habits and stands quiet for grooming, saddling, clipping, fly spray, baths, and picks his feet up for you with you just touching him behind his knee. He is a fantastic trail horse and will go anywhere you ask him to never hesitating at all. He has also went swimming with his owner as well. This boy is a true gem and if you are looking for that extra special friend to go on long trail rides with, play with in the ring, love on for hours, then this is your boy. He will load on any kind of trailer, and trailers well and settles in nicely at any place that you go. He does not have any lameness or health issues at all. He is wearing shoes all around so that we can drive him on the road, but can be barefoot too if you would like. This horse is easy to ride, and is not a horse that takes a lot of leg to get to move. He has a big stride to his walk and has a very comfortable trot. He rides great out alone, or is perfect in a group and leads or follows. If you feel you are the right owner for this outstanding horse, please feel free to contact me.
---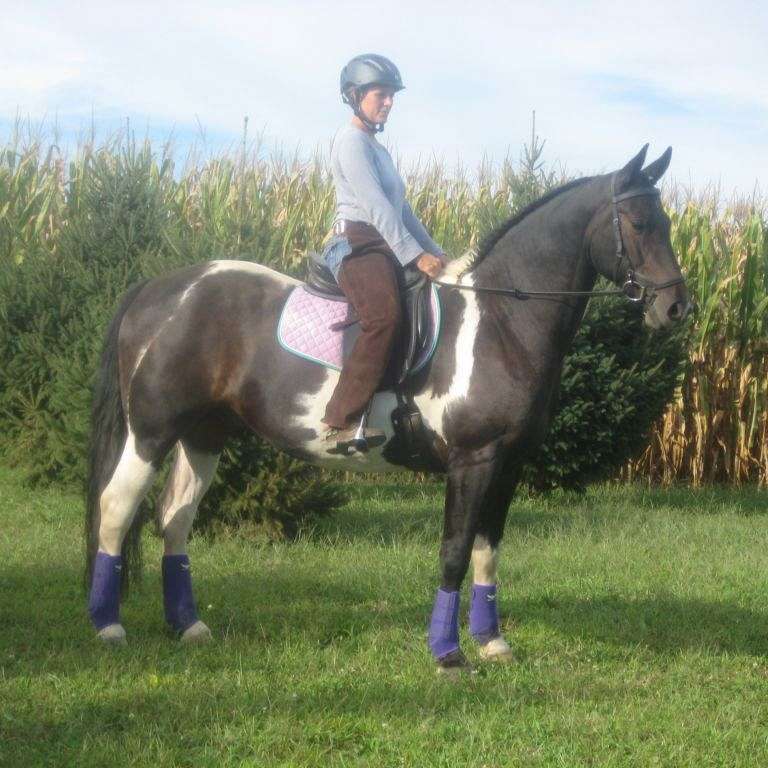 Whispering Haven Farm
We specialize in the sale of safe horses for multiple disciplines. We only take in horses on consignment that are not problem horses.