Skills / Disciplines

Natural Horsemanship Training, Penning, Working Cattle
Additional Comments
Bought this filly as my next personal mount for working in our local salebarn and to day work on. She was bred, raised & broke out by a local cowboy with a love of this bloodline. I watched her full brother work for 2 years in our salebarn. Super mover with lots of personality and extremely cowy. Worked her a year in a bosal at the salebarn & just recently moved her to the bit for first time. Now its time for a fancy handle. Shes so cowy shell bite a cow twice before it gets to the pen.... (read more) Very proud to have her in my string. Time to buy the husband his last ranch horse & she made the chopping block due to her age & her being unseasoned. This red roan filly sure has a great personality to go with her size. 15.1 hands (so far) of slow loping smoothness. She kinda has to be pushed. No speed whatsoever. One hand broke for an experienced rider who moves slow and easy and lets her get there. Loping smooth circles, working on fencework, & moving with haste. Sidepasses, backs up, & has been natural horsemanship trained for a year. Stands tied, & I trim her myself. No bad habits, just needs more wet saddle blankets & life experiences. Call Mona in Heber Springs, AR for more details 501 691 0048. I videoed her first ride in the bit after a 3 week layoff & getting on her cold for the first time. Many pics and video available on her journey from an awkward goofy filly into a working stick to be proud of.
---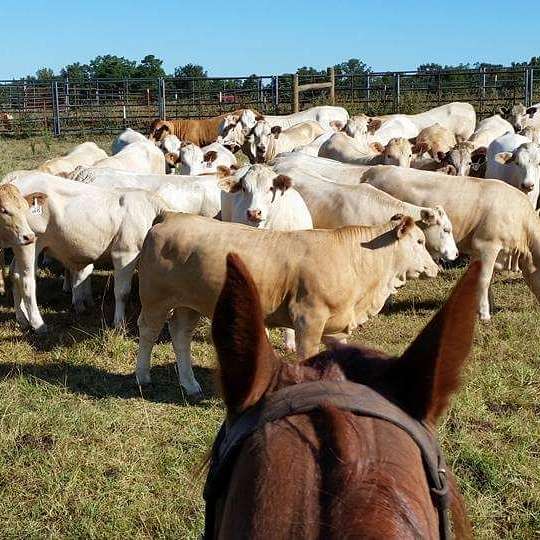 Riddle Cattle Company
We steward and raise crossbred beef cattle in the great state of Arkansas. Each year we build several preconditioned stocker and replacement heifer groups all worked from horseback. We enjoy turning out some good working ranch and kid horses throughout the year. Call Mo at 501 691 0048 for more information on any of our working horses or to fill your farm with some quality beef to fit any business plan. Grass fed beef available. Lane Riddle, Operator.