Skills / Disciplines

All Around, Driving, Ranch, Ridden English, Ridden Western, Team Driving, Trail, Trail Riding, Trained, Trail Class Competition, Western Pleasure, Western Riding
Additional Comments
Registered Paint, but solid color
15 hands
Born May 2004 will be 12 this year
We owned him and his half brother their whole life.
Gelding

We have decided to offer our beautiful matching pair of geldings for sale to the RIGHT home only! They are half brothers being born only 2 weeks apart. We owned their dad, which was a black and white paint, and our vet had two black quarterhorse mares that he wanted to breed to our stud.... (read more) When they were born, we could not resist buying them as they are a perfect matching pair of geldings.
We have trained them to drive as a pair and did a lot of driving with them when they were younger. We have not driven them in about 6years. We have trail ridden them all over the place and they were ridden on a lot of trail rides all over the place. He will go in any kind of trailer, and loves an adventure. Sells with horse add number-1056673, if bought together we will offer a special price!
This is Lark. He is the shorter one and the more relaxed one of the two. He is a very smooth horse to ride and has a very nice jog that you can sit all day long if you want. He is the horse that we used in the lead when we drove too. He has a very sweet, loving personality and will stand all day for you to fuss over him. Stands perfect for clipping, bathing, the farrier and the vet. He has no vices at all. He is barefoot right now as we pull shoes in the winter, but he has worn shoes all around for trail riding as well. Both of these horses are as sweet as can be and just love attention and this is why we have decided to offer them for sale as we do not have the time to spend with them that they deserve and we would love to see them go to a home where they are being used and given the attention that they need. They both will go over any kind of bridge and through water are not scared of traffic or any kind of farm animals. They are really good boys, but have only been trained to trail ride. I think that they would excel in anything that someone wanted to do with them and they would love it. They have been easy keepers as we keep them outside 24/7 and have not had any health or lameness issues. If you feel you are the right home for one or both of these guys, please feel free to contact me. The last two pictures are of him when he was younger, the in hand picture is when he was three and the riding picture is when he was 4.
---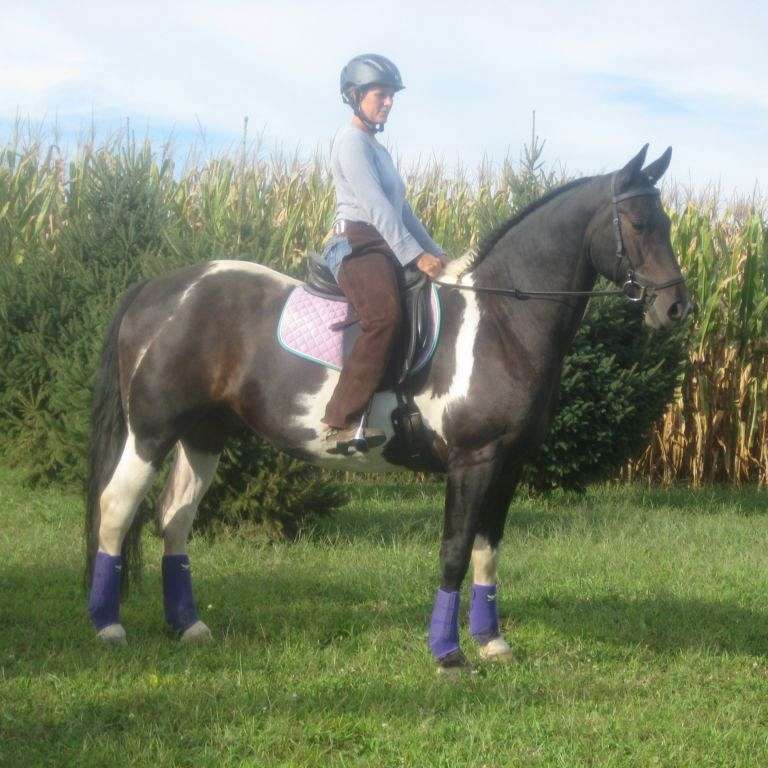 Whispering Haven Farm
We specialize in the sale of safe horses for multiple disciplines. We only take in horses on consignment that are not problem horses.