Skills / Disciplines

Athletic, Barrel Racing, Flashy, Penning, Playday, Ranch, Ranch Work, Reined Cow, Team Penning, Team Roping, Working Cow, Working Cattle
Additional Comments
Dandi has been sold. Thank you Mr. Jim Wingfield from Cotton Valley, LA. Can't wait to see where Dandi's future takes him with you!!! Dandi was born solid black. He has been DNAed and is EE plus he carries the cream gene from his sire. He will never throw a red baby, no matter what color mare he may be bred to. He has bleached out in this picture taken in September. He is AQHA registered. Docs Dandi Dooley. Born 4/20/2015. He is very friendly, easy to catch and handle.... (read more) Weaned. Standing tyed and leading well. Dandi is well built, very athletic, and correct in every way. Has a nice hock and gaskin on him. He is stout made. Very thick with a lot of substance for a baby. Has turned coal black since we got him up. Fancy colt! His grandma was my NBHA/AQHA barrel and pole mare and was a money and AQHA pt earner. This fella should be able to make a superb athlete and has the mind, bone, and feet to do it a long time. Due to his momma losing sight in one eye due to injury, we never got to compete on her. Dandi's pedigree is on www.allbreedpedigree.com. This colt has just enough chrome to be really classy. He is in the picture with his mom, who is Bay and his daddy who is Perlino. This picture was just taken 9/5/2015. Star, snip, and 2 white socks. 870-344-1569 or betharu47@gmail.com. DeWitt, AR.
---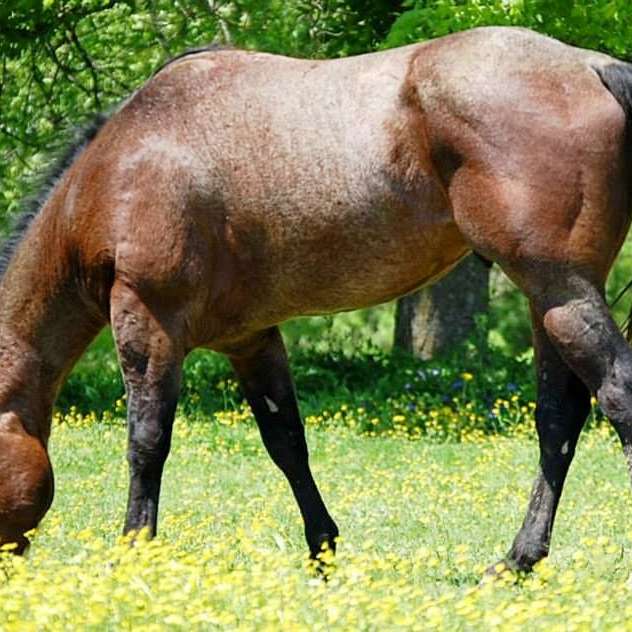 Cedar Ridge Farms Foundation Quarter Horses
We are located in South East Arkansas about 25 miles SE of Stuttgart(Rice & Duck Capital of the World). We currently stand two AQHA stallions to the public. The sire of most of our colts that we have for sale is Hawkeye, who is pictured. He has been DNAed and is Perlino. 5 panel tested. His pedigree is on www.allbreedpedigree.com and we also have his information on our face book page. His reg.... (read more) name is DOCS BLUE ID BANDIDO. We have babies in Oklahoma, Mississippi, Alabama, Louisiana, Kansas, Missouri, West Virginia, Tennessee, and Texas. Our other stallion is TOO CHEXY FOR MY SOX, aka Man. Talk about dog gentle. He sires babies with the kindest dispositions and lots of bone and substance. He is over 16 hands and 1300lbs. He comes from the bloodlines of the Pitzer and Haythorn ranches and throws really nice, well made babies. Man is a Bay Roan. His pedigree is also on www.allbreedpedigree.com. We do have another APHA stallion, Elkdogs Sky Dancer. On limited mares, he has produced 100%Toveros and Tobianos with loud color and excellent conformation. Dancer was tested homozygous for the Tobiano gene and is lethal white negative. He is also homozygous for the black gene, so no red babies. He has stunning blue eyes and with his true jet black color, he really stands out! Dancer is currently in Star City, but can arrange live cover with him. We do have a breeding contract if you will call or email. Our 2016 breeding fees are $300 and include a $150 booking fee. Live cover only at this time. We strive to raise all around performance horses based on the legends of the past, but breeding for the future. We add the color as the icing on the cake! We breed for conformation, disposition, and solid athletic ability. We hope that you will see this in our foals that we have for sale. We welcome all questions and enjoy visitors, too! Please check out Cedar Ridge Farms(foundation quarter horses) on Facebook!