Additional Comments
Percheron / Thoroughbred cross
Gelding
13 years
16.1 hands

Here is Mr. Nigel!! What a sweet, awesome horse this guy is!! He is going to fit into what ever program that you have and just love the job that you give him. He has been schooled up to second level dressage and has given numerous children and beginner adults lessons and confidence for riding. He is for sale for no fault of his own as his owner is facing some serious health issues and could no longer take care of him and wanted to see him in a home where he is going to be able to shine.... (read more) He has been loved, trained, spoiled, and seems to fit into new situations well. He is a pretty level headed boy that I am slowly bringing back into work. He has had about 4 months off, so he is out of shape, but no matter how long you let him sit, he will not offer you any buck, rear, or bad behavior. He is extremely loveable guy, and just wants all the attention that you can give. He has three correct gaits, and was working on some changes before her injury. This guy is very healthy and sound, and has never had any soundness or health issues. He was on the same farm since he was 11 months old, then purchased 2 years ago by my client. She trail rode him, schooled him, took him to clinics, and he just took it all in. He does best on the trail with another horse as he likes the company of another, and he feels more relaxed when there is another horse with him. He is wearing shoes on his front feet and barefoot behind and does great. He has been ridden bareback with a halter, and knows how to "shake" when you get into the saddle (you can see that in the video) He is gentle enough for children to handle and lead as he knows when there is a small person around. He really is a wonderful horse that is a perfect cross of draft and light horse. He is perfect to clip, bath, farrier work, worm, vetting, groom, and what ever you would like to do with him, he will just stand there perfectly still. If you feel he is the horse that you have been looking for , please feel free to give me a call.
---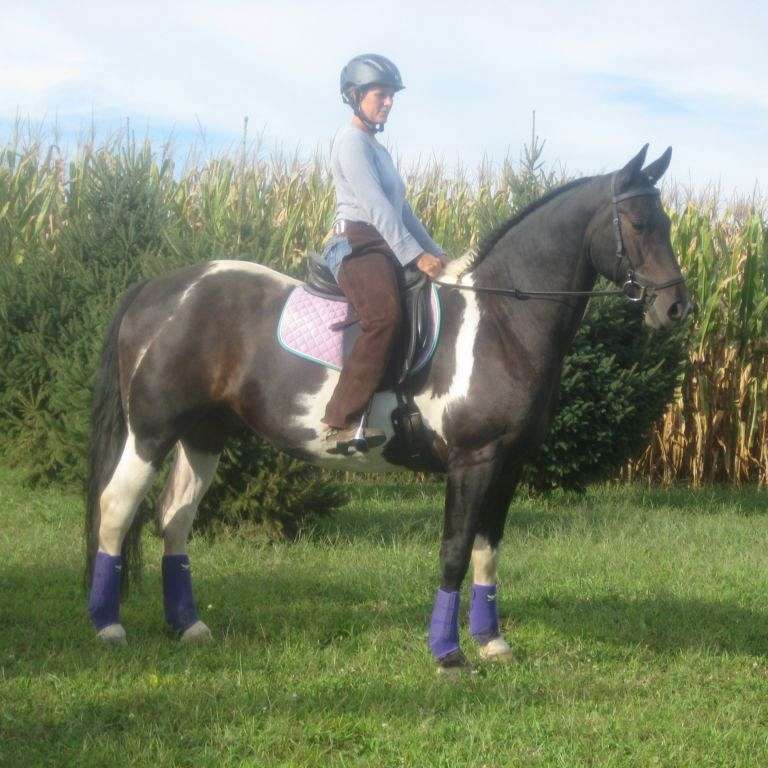 Whispering Haven Farm
We specialize in the sale of safe horses for multiple disciplines. We only take in horses on consignment that are not problem horses.