Discipline

All Around, All Purpose, Hunter, Show, Racing, Reining, Training, Pleasure
Additional Comments
Looking for some interesting shots of your next event or critter or senior photos on location? I specialize in critter photos, but I will shoot anything. I can shoot farm shoots for glamor shots for stallions or sale horses, motion with or without tack, etc. With over 35 years experience and not too large of an hourly rate at only $25 plus the cost of photos I can be there too shoot and have memories that will last a lifetime.

The 8" x 10" photos are only $25 including postage.... (read more) Less for smaller sizes too or put on cups or T-shirts, etc. Online photo proofs and more. See some recent photos on an online portfolio here: http://www.edragoon.com/training/id88.html Or call Margo at 509-796-2140 please leave message if I am outside working horses.

I have been in horses over 44 years and I can make your horse on film look great. Give me a call or email is easiest way to catch me.
---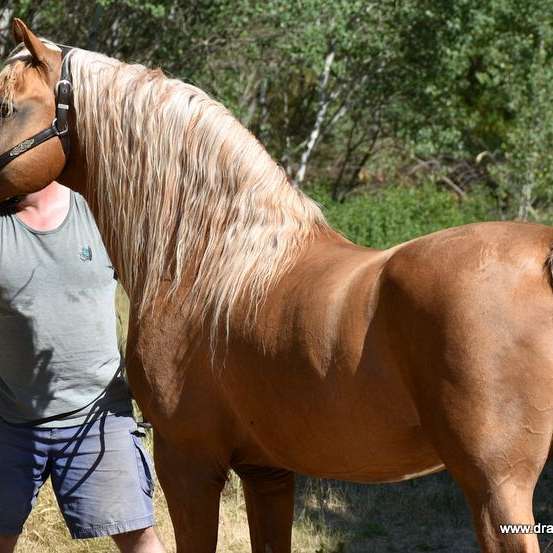 Dragoon Morgans
In Morgans since 1964, we are standing cremello, bay and buckskin Morgan stallions at stud to all breeds and gorgeous Morgan foals for sale now and then. We only have a few foals and they are well handled, trained and shown before sold so they are very mellow and kind, load, stand tied, etc. We continue their training until sold then breed a foal or two. We are not large breeders but the ones we sell are trained a lot before leaving.... (read more) Sorry we do not work outside horses or board them but we can refer you to people who do that. We only have enough time to train and sell our own horses. We do volunteer with Rough Start Horse Rescue to work and market some of their homeless horses since 2010. Secretary of the Spokane Morgan Club, www.spokanemorganclub.org to see stallions at stud, horses for sale, events and more. We take in Morgans and crosses from Rough Start Horse Rescue to foster, train and find homes.