Skills / Disciplines

All Around, Beginner, Pack, Stallion
Additional Comments
This guy is not for sale but he is available for dates! Chimera's Black Jake is just looking for love near north Spokane.

Jake is a registered mini donkey standing at stud for mini horses or purebred jennies. He is 34" tall and has foals on the ground that you can see on our web site: www.dragoonorgans.com

Jake is very sweet and calm. He is always a favorite of kids when he goes to events.

Plus he is a gorgeous color which we will be taking more photos of him as he sheds out.... (read more) He is black with gold highlights.

Jake was Reserve Grand Champion Mini Jack at the Spokane fair in his second show ever on Sept 2016. He handled the crowds nicely.

Jake also volunteers with the local horse rescue to stand in their event booths to take photos or ride in the back of trucks during parades. Jake help them advertise their homeless horses and donkeys for adoption. We lost our oldest jack to old age and found this cutie for local jennies or minis.

We do not have any donkeys for sale right now but we are expecting our first baby by Jake and our mini jenny this spring of 2017.

His fee is $300 or will trade for tack or??? Bring some grass hay or mare care is $3 a day.
Shipping Notes
Live cover only near Spokane
---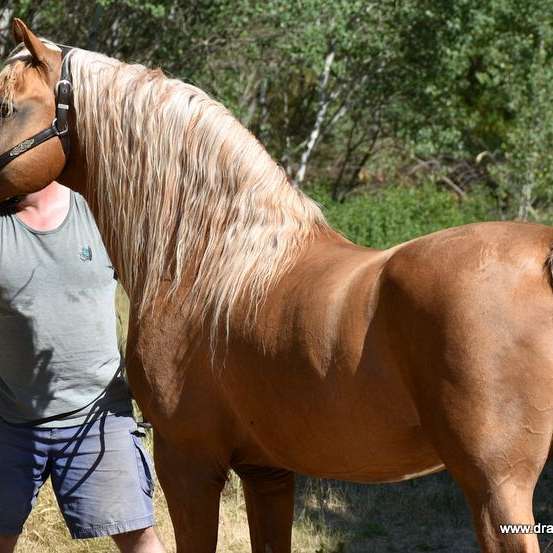 Dragoon Morgans & Studios
In Morgans since 1964, we are standing cremello and bay Morgan stallions at stud to all breeds and gorgeous Morgan foals for sale now and then. We only have a few foals and they are always well handled since birth, trained and shown before sold. Our foals are always well started, mellow, kind, load, stand tied, go to shows starting at a young age, etc. We continue their training until sold then breed a foal or two.... (read more) We are not large breeders but the ones we sell are trained a lot before leaving us with their ground work. Once we sell a foal than we breed back and start the process once again. Sorry we do not work outside horses or board them but we can refer you to people who do that. We only have enough time to train and sell our own horses. We do volunteer with Rough Start Horse Rescue to work and market some of their homeless horses since 2010. We take in Morgans and crosses from Rough Start Horse Rescue to foster, train and find homes. I attend many of their events and shoot photos for them as well. See Dragoon Studios on Facebook or www.dragoonstudios.net Secretary of the Spokane Morgan Club, www.spokanemorganclub.org to see stallions at stud, horses for sale, events and more.