Additional Comments
WOW! If I could draw the perfect homozygous black and white pinto Miniature Colt.....Panda would be it! He is a stunning picture perfect 22.5" Black & White Miniature Yearling Colt that will mature between 25-26". He is Homozygous for tobiano meaning that no matter what he is bred too, he will produce pintos. His Conformation is outstanding - straight legs, perfect bite, level topline, beautiful head, petite muzzle and tiny ears! "Panda" is not only beautiful and well put together but he is also THERAPY TRAINED!!!.... (read more) He was the star attraction at our Therapy Angels Booth in the breed pavilion at the Equine Affaire this year and he was a show stopper both in the booth and in the breed demos! I can't tell you how many times we were complimented on his conformation and just what an over all NICE colt he is!!. This is the reason we have left him intact as if he doesn't sell I am going to keep him as a future breeding stallion for my breeding program. "Panda" is also very sweet natured and loves attention. He is already WCMHR registered and can also be AMHR, we just have not registered him yet since he still has a few years before he is old enough to breed. But his price will be based on whether he is sold with or without papers. Of course I can still geld him at no extra charge for anyone that is interested in him as a therapy trained gelding. He will come with his therapy certificate and a therapy vest

PRICE LISTED IS FOR WCMHR Papers only. He is $7000 with AMHR papers.
---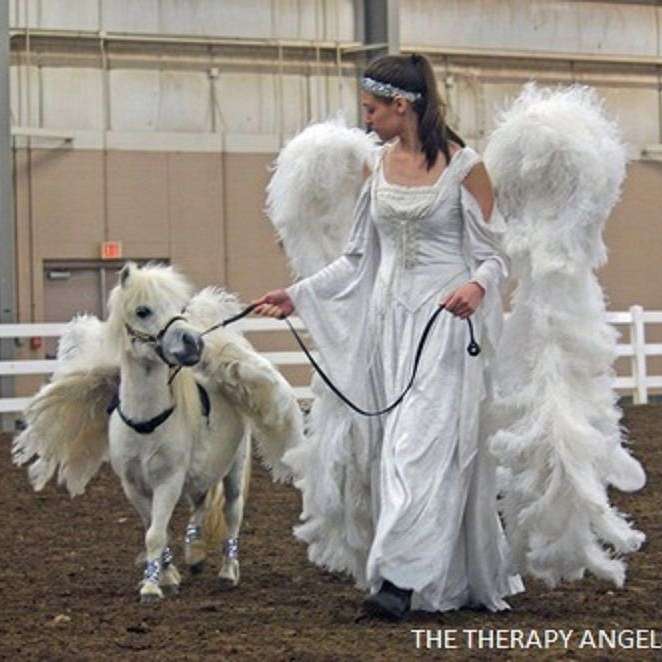 The Therapy Angels
Breeding Therapy Trained Miniature Horses. Specializing in 28" and under for nursing homes, hospitals, schools, daycares, events and more!