Additional Comments
She was adopted in September for Rough Start Horse Rescue. Photo from July 4th, 2014 at a horse show on a hot day but you can see she is broke to ride.

Registered broke grey Arabian mare, Dunasara or Sarah is 14.3H, 19 and in great shape. She is sweet and kind. She is mostly old style Polish so has a ton of brains, very nice ground manners, easy to handle and catch, moves away from hand pressure, stands, loads and hauls, trims, etc.

I am looking for a trail home that likes to ride occasionally or no long hard rides which would be perfect for a mare her age.... (read more) No lameness or mental issues with this sweet horse.

She is being sold to an adult home so no 4H, beginners, gaming or breeding. With a little tune up Sarah can be shown at fairs in halter and under saddle, etc., but a trail home preferred.

Sarah has a ton of good years left, but she will need extra feed in winters to maintain her weight like most horses her age. She just needs good hay and sweet COB grain plus some vitamins. She is not on senior feed, etc. or anything special.

Just trimmed and wormed once again. Teeth are great.

This is an easy mare to handle and work plus she learns quickly. Sarah is in tuneup training and her price will increase with more time under saddle this spring.

Asking $900 firm and no trades unless horse hay delivered or a straight load bumper pull trailer in decent shape. No horse trades please. Thanks.

This mare is a rescue from Rough Start Horse Rescue we are working and fostering. She will be sold on a non-selling contract and nonbreeding. See her at local fairs being shown by kids until she is placed. The fairs we are attending is Pend Oreille County in Cusick, Lincoln County in Davenport and Spokane County fairs this year. Come on down to meet her and more rescues needing new homes.
---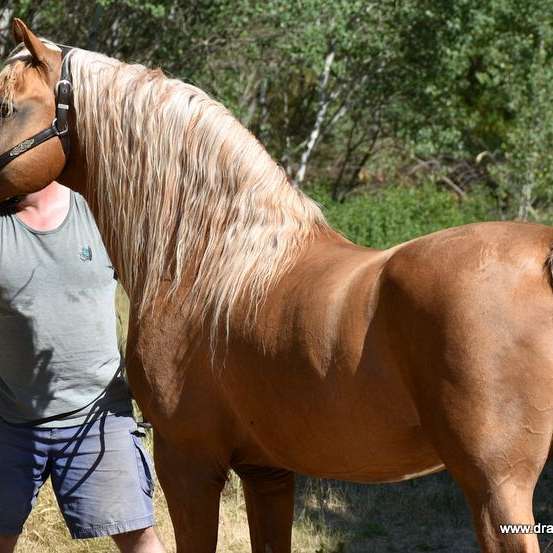 Dragoon Morgans
In Morgans since 1964, we are standing cremello, bay and buckskin Morgan stallions at stud to all breeds and gorgeous Morgan foals for sale now and then. We only have a few foals and they are well handled, trained and shown before sold so they are very mellow and kind, load, stand tied, etc. We continue their training until sold then breed a foal or two. We are not large breeders but the ones we sell are trained a lot before leaving.... (read more) Sorry we do not work outside horses or board them but we can refer you to people who do that. We only have enough time to train and sell our own horses. We do volunteer with Rough Start Horse Rescue to work and market some of their homeless horses since 2010. Secretary of the Spokane Morgan Club, www.spokanemorganclub.org to see stallions at stud, horses for sale, events and more. We take in Morgans and crosses from Rough Start Horse Rescue to foster, train and find homes.