Additional Comments
Beautiful, kind, athletic Black Arabian Stallion -- at STUD! This horse is amazing. He is straight Egyptian, AL KHAMSA bred. I have been around a lot of stallions and ROYALTY is one of the sweetest and with the best disposition. He is so kind and loves people. Super smart. He was shown in open Sport horse -- against, warmbloods and fresians -- came out a Champion. He has produced athletes in several disciplines -- reining, dressage, hunter and endurance.... (read more) This horse is built to get the job done. Add in his extreme beauty, big eyes, chiseled head, nice balanced body -- plus he is homozygous BLACK! He is the total package. This horse is so smart, he has been trick trained -- he can rear on command, lay down, spanish walk, bow, sit, count, say yes and so much more. He has been used in Hollywood for several animal talent agencies -- for Ralph Lauren, Neiman Marcus and has been the stallion chosen for a potential movie to be filmed. All of that aside, the cool things about this horse -- truly disposition, athletic ability and ability to reproduce that and his incredible beauty. He is the CLASSIC Arabian that everyone loves. He is straight Egyptian and would enhance any SE program or is an excellent outcross to the Polish/Russian/American Arabians. We have bred our Barbary daughters, Desperado V daughter, Monarch Daughter, Monogramm daughter and our Khemosabi daughters and Khemosabi granddaughters to him. We are super excited.

REDUCED STUD FEE FOR ONLY 10 MARES! If you have ever been around a stallion during breeding season, it can be tough. This horse was in the 4th of July Parade, with a mare -- the day after he just bred a few mares and did great. The next week, we did the Cattlemen's Days parade, same deal -- right during breeding season, and he rode with our Desperado V daughter, that my 8 year old daughter was riding - the mare was in heat! Many studs would not handle that well -- Royal did great.

I have more photos -- call me direct, if you have any questions at 970-641-9043. Or, come in the spring and pick our your very OWN ROYALTY baby out of our Champion bred mares.

We specialize in Arabians that are both beautiful and FUNCTIONAL. My daughter and I are riding our Arabians, thru the Mountains - from Crested Buttle, CO to Aspen, CO. We use our horses to move cattle, parades, trail ride and show. This is what Arabians are bred to do. The Modern Arabians -- just look nice, but most cannot do much -- the big breeders have bred out disposition, work ethic and the people loving attributes which is what the classic Arabian was bred like. Come on, they lived in the tents with their owners -- they had to like people!
Watch Powderhorn Creek Ranch & USA Horse Connections Present Ravenwood Royalty
Shipping Notes
Shipped Semen available.
---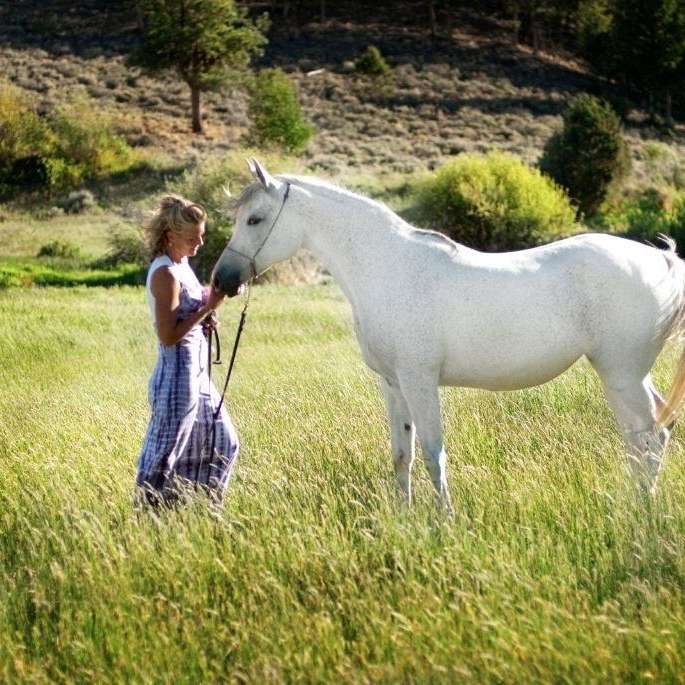 Powderhorn Creek Ranch
Powderhorn Creek Ranch is a full-service breeding operation. We specialize in breeding top quality performance Quarter Horses and Arabians. We stand sons of Khemosabi and Smart Little Lena and our straight Egyptian Black Arabian Stallion. All of our Stallions have proven themselves in the