Additional Comments
NAME/NOMBRE: CALIENTE DEL SOL

DATE OF BIRTH/ FECHA DE NACIMIENTO: APRIL 24, 2013

COLOR/CAPA: BAY/ CASTAÑA

SIZE/ALZADA: 11.2 HANDS AT ONE MONTH OLD AND 192 LBS/ 117 CM A UN MES DE NACIDO Y 192 LIBRAS

PARENTS/PADRES: TRIUNFADOR XXIV X PODEROSA LVII

REPRODUCTIVE STATE/ ESTADO REPRODUCTIVO: PENDING ANCCE INSCRIPTION/ INCRIPCION ANCCE

DESCRIPTION: Flashy mover with excellent conformation, racial fidelity, 100% ESCALERA like both parents.... (read more) His sire, TRIUNFADOR XXIV (qualified), described by TROFEO CABALLO AS: "THE BEST BLACK PRE TODAY", is DNA black with no markings, 16.3H, has 7 gold medals in Spain, a 3 time SICAB TOP 5 FINALIST, offspring with 14 gold medals and 4 qualified offspring. This set of accomplishments is unmatched by any black PRE and perhaps by any PRE. His dam is Poderosa LVII, out of RANCHERO XIV, multi-champion and SICAB GOLD MEDALIST, brother of ERMITAÑO III (ELITE). CALIENTE´s PARENTS ARE BOTH MARIA FERNANDA DE LA ESCALERA BRANDED, AND Caliente´s KNOWS IT!

DESCRIPCION: Movimiento llamativo con morfologia excelente, fidelidad racial, 100% ESCALERA como su padre y madre. Su padre, TRIUNFADOR XXIV (calificado), TROFEO CABALLO LE LLAMO: "EL MEJOR CAPA NEGRA DEL MOMENTO", ES ADN negro limpio sin divisas, 172 cm, con 7 medallas de oro en España, 3 veces quinto FINALISTA EN SICAB, hijos con 14 medallas de oro y 4 hijos calificados. Esta coleccion de logros no es igualada por ningun PRE capa negra y tal vez por ningun PRE. Su madre es PODEROSA LVII, hija de RANCHERO XIV, multi-campeon y MEDALLA DE ORO DE SICAB, hermano de ERMITAÑO III (ELITE). AMBOS PADRES DE CALIENTE TIENEN EL HIERRO DE MARIA FERNANDA DE LAESCALERA, Y MATADOR LO SABE!


---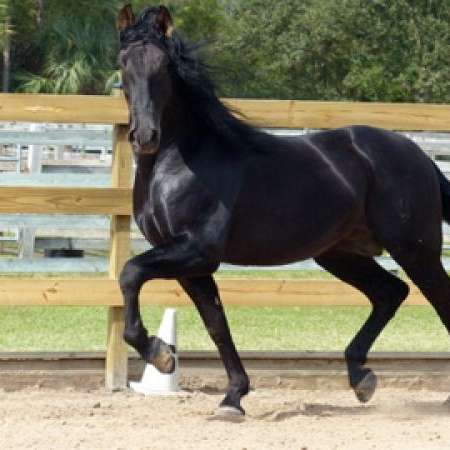 Hacienda Del Sol Andalusians
HACIENDA DEL SOL ANDALUSIANS IS DEDICATED TO BREEDING THE BEST ANDALUSIANS, PURA RAZA ESPAÑOLA FOR CONFORMATION, MOVEMENT AND DRESSAGE.