Additional Comments
FACEBOOK LINK WITH PHOTOS/VIDEOS: www.facebook.com/StargazeyFarms

LUNARS MINUTES OLD FOAL: Watch Stargazey's Button Moon, Mini Foaling, And First Steps, By AMHA Stallion C.A. Vision Question
LUNAR NURSING BUTTON: Watch Stargazey's Button Moon, Miniature Foal, Suckling Milk From Mum, By AMHA Stallion C.A. Vision Quest
LUNAR AND BUTTON PLAYING IN THE FIELD: Watch Video
LUNAR DRIVING LATE Watch C.A. Lunar Eclipse, Driving In Town Late Summer 2012

Presenting C.A. Lunar Eclipse - driving pony, therapy horse, and proven broodmare, currently in foal.... (read more)

Lunar's Personality:

Lunar is friends with everyone! This little mare is just happy to be, whether she is being led around by children, hooked up to a cart, or simply hanging out in the barn or field. She is very relaxed, and will follow you everywhere and anywhere!

Lunar has been turned out with horses of all sizes, and gender - and is always first horse to the gate.

Lunar's Training:

Lunar has primarily been trained as a therapy animal. She has attended events at local nursing homes, and public demo days - where she has been approached by a variety of people, and animals, including children, dogs, and wheel chairs - she greets people well, and has never shied in a new situation, or training exercise.

Due to her therapy career Lunar has had a lot of desensitization training - including but not limited to - dogs, children, wheel chairs, larger horses, cars, off road vehicles, and tarpaulins.

Lunar has also been trained to drive - she was lunged and ground as a two years old, and has been successfully driven alone. She was easy to train to harness, picking up the basic commands - walk, trot, and stand - within the first day. She has been driven on a track, on concrete, and on grass with no issues.

As well as driving - Lunar has also been started with simple saddle training - she has been tacked up, and has had a child on top of her while being led. She has not been ridden off the lead line - but I do not believe that it would be a great leap for this easygoing girl.

Lunar's Behaviour:

Lunar is easy to work with full stop. She stands patiently while being tacked up, groomed, washed, etc. She is not at all mareish, and has never kicked, bucked, or bitten. This mare is totally vice free! She even keeps an immaculate stall - using one corner and sticking to that corner!

She is very well behaved for both the vet, the farrier, and is also a great traveler - she loads in the trailer like a pro, and is always easy to unload.

Lunar's Vet/Farrier Care:

Vetted: March 11th 2013 - She has had all of her vaccinations (including strangles), had her teeth floated (and her wolf teeth removed), and coggins testing for the year of 2013.

Farrier: April 23rd 2013

Wormed: April 15th 2013 with Eqimax Ivermectin Paste.

This Mare And Foal May Be Available To An Approved Home.
Sale By Private Treaty Only.
Shipping Notes
Can Help Arrange Shipping For Additional Cost.
---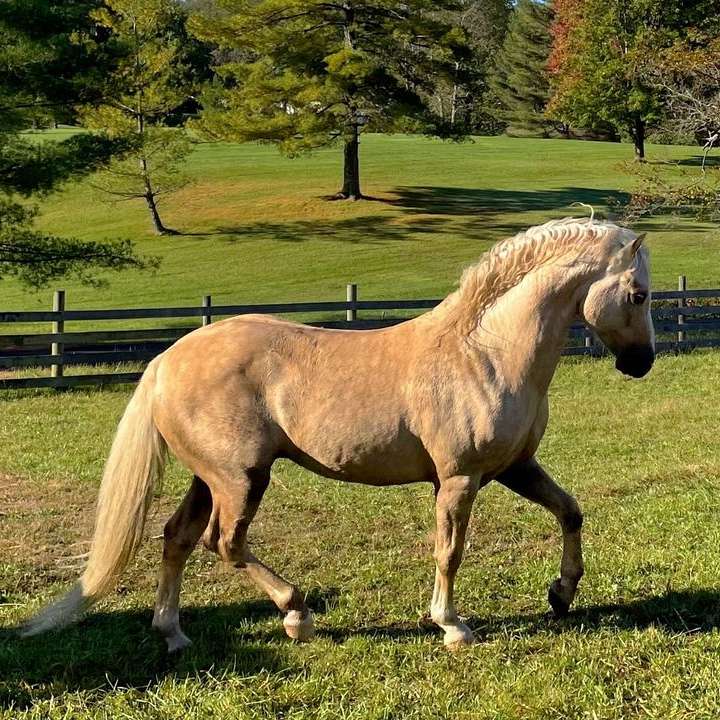 Stargazey Farms - Home of Stargazey Irish Draughts
Stargazey Farms is a small holding nestled in the hills of Ohio devoted to the breeding, and preservation of the Irish Draught. We pride ourselves on breeding Irish Draughts that are true to type, with phenomenal bloodlines, conformation and temperaments. Our mission at Stargazey Farms is to promote the Irish Draught Breed in America through breeding, education and sharing our experience with horse lovers.... (read more) As we begin our project in 2012, we hope to provide the Irish Draught community with information about our program and encourage enthusiasm to see this rare breed flourish in the future. At Stargazey Farms, we aim to produce great horses. We are planning programs to include farm visits, riding and competitions which will be open to everybody who is interested in Irish Draughts. We especially welcome meeting people who are looking to add a Draught to their equine family.