Additional Comments
What the best of both worlds? Here is a once in a lifetime opportunity to purchase our one and only half Andalusian/ half American Saddlebred gelding that we are reluctantly offering for sale. This beautiful sorrel gelding with his soul-full eyes and stunning flax mane and tail is just waiting to be your next trail-partner! And you can bet that he's going to stop traffic every step of the way!

Valiento C... aka "Chili"... is a product of our stunning Andalusian stallion, Intrepido MC and one of our most well-bred American Saddlebred mares, Royal Crest Sharin' Stone.... (read more) Intrepido MC carries some of the oldest Spanish bloodlines and the purity of those genes shows in the size, strength, and carriage of this handsome young horse. Chili's dam carries 22 Broodmare Hall of Fame dams in her 5- generation lineage... giving Chili the best of the best from both worlds. Regardless of the discipline, Chili will NOT disappoint. He is smart, athletic, and more than willing to be a part of someone's life forever.

Chili just turned 3 this year and is ready to be started in whatever discipline you choose for him. He will easily excel at any of the sport-horse disciplines... and is a natural for English or Western dressage, trails, or endurance. Because of the strong Andalusian genetics, Chili looks more like an Andalusian than a Saddlebred. But... because of the Saddlebred influence, he tends to carry his neck a little higher, and his step is a little more elevated. The Saddlebred influence also gives a bit of refinement to his large bone structure... and his coat is not quite as thick as an Andalusian... which is great if you are looking for an endurance-type horse as he will cool-down very quickly.

Chili is very compact, moves squarely and effortlessly through his gaits. He still has a LOT of growing to do and may finish out close to 16H since his dam is that tall. His sire is built like a tank, so I feel that Chili still has a few more years to "widen" out, but at this point, he is more than ready to begin basic training. His hooves are rock-hard, with nice concavity... so you can sure bet that he will be a super trail horse!

Chili is extremely smart and learns very quickly. In typical Andalusian fashion, Chili does not wear his emotions on his sleeve, so his training will need to be done by someone who understands and appreciates this type of personality in a young horse. Once his trust is gained, he will be one of THE most loyal horses you will ever know.

We are very particular to whom our horses go to. If you are not willing to answer personal questions regarding care, training, financial stability, and anything else we feel is pertinent to Chili's care, then please do not respond to this ad.

If you visit our website, you will find lots of information and photos about Chili's sire and dam, but at this time I do not have him listed for sale on there because we thought that we were going to keep him. But with 14 horses, and several that are special needs, we have reluctantly decided to try to find Chili a wonderful home where he will be as loved there as he is here.

Thank you and have a great day!.
---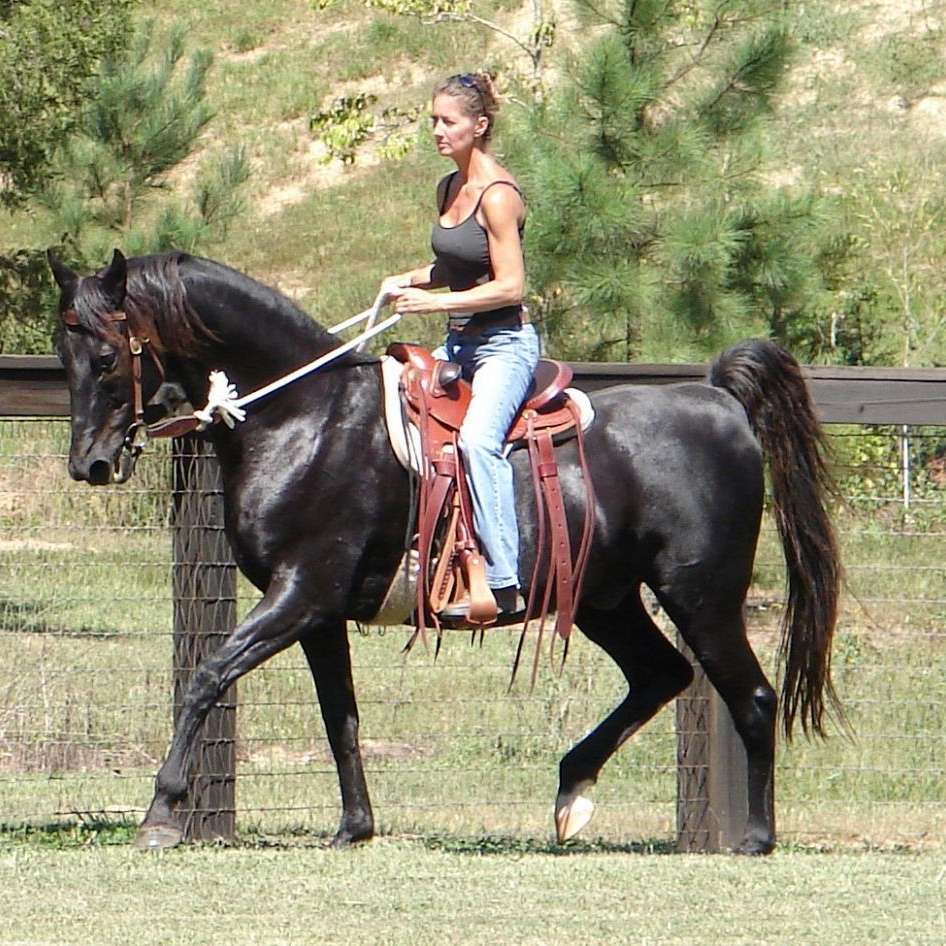 Renaissance Winds Farm
Our farm specializes in breeding and raising American Saddlebreds from the ground up... and without "baggage." Raised naturally in highly social herd environments and handled daily, our main goal is helping our horses to become calm, confident and engagingly curious partners to their human companions, allowing them to happily excel at any discipline. We are not just in the business to "sell a horse.... (read more) " It is imperative that our horses compliment the next human that comes into their lives. For that reason, we are extremely particular to whom our horses go to. If you are not able or willing to impart detailed information about yourself, your riding ability and experience, as well as provide references, then you probably need to look elsewhere for your next horse. Our goal is to create life-long partnerships with horses and humans... not "just sell a horse."