Additional Comments
UPDATE March 11th: Ruby was seen by the vet today - she had Coggins Pulled, Had her Yearly Vaccinations, Teeth Floated, Wolf Teeth Removed, And Will Be Seen By The Farrier Next Week.

Ruby is a flash girl who was made for the show ring. Ruby has one of the flashiest trots we have ever seen - simply gliding across ground, and making her presence known.

Ruby has had a variety of experiences including participating in our miniature therapeutic team, and being started under harness.... (read more)

Ruby while in our in-house therapy program has been subjected to a variety of experiences including exposure to dogs, moving vehicles, bicycles, children, wheel chairs, clippers, and more!

With our therapy troop Ruby participated in several fund raiser last year; including a fund raiser held in July for the Red Cross at a local nursing home. This was Ruby's first event away from the farm, and she was approached by wheel chairs/children/visitors/etc. The day finished without any incidents, and we were incredibly proud of Ruby's performance. Through out the summer she continued to attend other events, including a local event where she was part of a demo - "How to start your horse under harness". We had three horses participate showing various stages of training. Ruby was stage one - a total novice horse who had never been exposed to a harness. She stood perfectly well while we showed our method for introducing the harness as we tacked her up without even the slightest issue, and was successfully ground driven in front of the audience.

After participating in the demo we continued to ground drive Ruby, and after a couple weeks of ground driving introduced her to pulling the cart. Ruby has been successfully driven with cart while being led. With continued training Ruby will be a serious contender in the show ring, with a mix of her trot and carriage she will be hard to beat.

Ruby is easy to handle, easy to lead, and loads well. Ruby has been seen by the farrier, and picks her feet up when asked.

Ruby has perfect feet, and good teeth.

Ruby can be bred to registered AMHA blue eyed pinto stud for additional cost.

Videos and additional Photos are available upon request.
Shipping Notes
We Can Arrange Delivery At Additional Cost.
---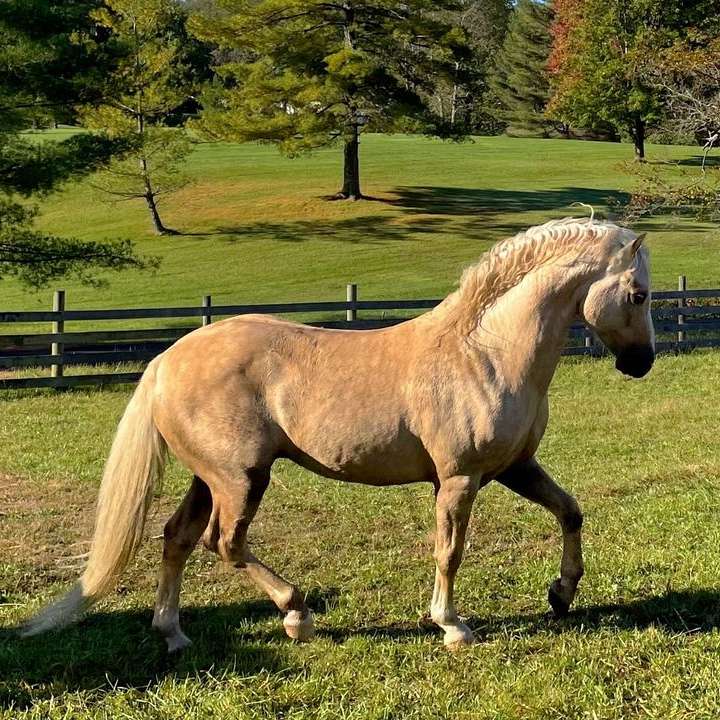 Stargazey Farms - Home of Stargazey Irish Draughts
Stargazey Farms is a small holding nestled in the hills of Ohio devoted to the breeding, and preservation of the Irish Draught. We pride ourselves on breeding Irish Draughts that are true to type, with phenomenal bloodlines, conformation and temperaments. Our mission at Stargazey Farms is to promote the Irish Draught Breed in America through breeding, education and sharing our experience with horse lovers.... (read more) As we begin our project in 2012, we hope to provide the Irish Draught community with information about our program and encourage enthusiasm to see this rare breed flourish in the future. At Stargazey Farms, we aim to produce great horses. We are planning programs to include farm visits, riding and competitions which will be open to everybody who is interested in Irish Draughts. We especially welcome meeting people who are looking to add a Draught to their equine family.