Additional Comments
Here is a beautiful black, registered, Saddlebred mare with SO MUCH POTENTIAL!!!

Lily is a jet black mare with a big white DOT on her nose. That white dot was the only thing I could see of her in the pitch black of the night when she came into the world. She has her own built-in "flashlight"... and it sure helped that night!

Lily is 6 years old. She has had a lot of ground work, but I have not gotten a chance to get her started under saddle, as family health issues put my plans with Lily for this past summer.... (read more) When I have had time, we have worked a lot on refreshing her Parelli ground skills... so now it will be just a matter of translating that into the saddle for her. She is eager to learn, but does still occasionally have some confidence issues that require patience and guidance for her to work her way through. I have been very pleased with Lily's willingness thus far and expect that she will make great progress whenever I can pick things back up and get her under saddle.

I have a short video clip that I took earlier this year posted on YouTube if you type in her full name, "Harlem's Magic Tigerlily"... but that is all I have of her at the moment, and it will probably not be until next Spring before I am able to get any more. It will, however, give you some idea of her beautiful movement. If you have trouble viewing the videos, please contact me via email and I will be glad to forward the link to you.

Lily loves attention, and if she catches you giving that to another horse, she is not opposed to worming her way in... or messing up your hair as she stands behind you... or tugging on your shirt-sleeve if she imagines that you can't POSSIBLY not notice her. That's Lily... she's ALL about being noticed... one way or the other.

Lily has a nice straight back that is not too long or too short, huge shoulders and a beautiful swan neck. She has filled out very nicely and might just finish out around 16H... or close. Lily carries herself beautifully and with very nice forward momentum. She has a very nice build and movement that would make her a beautiful Western Dressage prospect, but also has a nice rounded topline that could easily put her in the English dressage arena as well.

Lily's mother is a beautiful chestnut. Lily's sire is black... but his dam was chestnut. In terms of what Lily would produce as a broodmare down the road... anything goes... but it probably won't be all black all the time due to that chestnut gene. Both her sire and dam are here on the farm, so you can get a really good idea about how Lily is put together as well as how she is going to mature just by looking at both of them. Both Lily's sire and dam have 22 Broodmare Hall of Fame dams in each of their 5-generation pedigrees. So if you are looking for a young horse that is super sweet, intelligent, athletically able, and ready to be finished for the discipline of your choice, as WELL as having fabulous bloodlines... you are not going to find that combination in a horse for the price we are offering her at.

We were hoping to keep Lily to replace her dam one day as part of our breeding program... but we have 12 horses currently, so any thoughts of producing any more foals have been set aside for a while... perhaps forever. Because of that, I do not wish to see Lily just standing around here doing nothing when she has so much incredible potential.

Many of our horses are older and have earned the right to retire here. For that reason, we are hoping to find Lily a wonderful forever home to allow us to continue to care for the ones we have that will be here for the rest of their days. That was the only reason that we have reluctantly decided to offer Lily for sale. Some of the other horses have emotional and physical issues that do not allow them the opportunity to leave.

Lily is strong and healthy and is ready to become the center of someone's universe. Maybe your next forever horse is waiting right here in our field. And maybe her name is Lily...

Lily has moved through 5 of the 7 Parelli games with great ease in a very short period of time and I have seen a tremendous change in her emotional maturity. She is EXTREMELY smart... and we are looking for an extremely special person to work with Lily and give her all the confidence and training that can allow her to be the best equine partner possible. I have great faith in this beautiful mare... but if you are truly interested in Lily, you are going to have to firmly establish my faith in YOUR ability to work with her before we let her go.

We are very particular to whom our horses go to, so if you are not willing to provide detailed information about yourself, what you are looking for in a horse like Lily, how you can make sure that Lily has a wonderful life with you, then please do not respond to this ad.

Thank you.
Shipping Notes
Buyer is responsible for shipping, but we might be willing to deliver if within a reasonable distance. If long distance, we will be happy to help coordinate with very trusted shipper's that we know personally. Just let us know.
---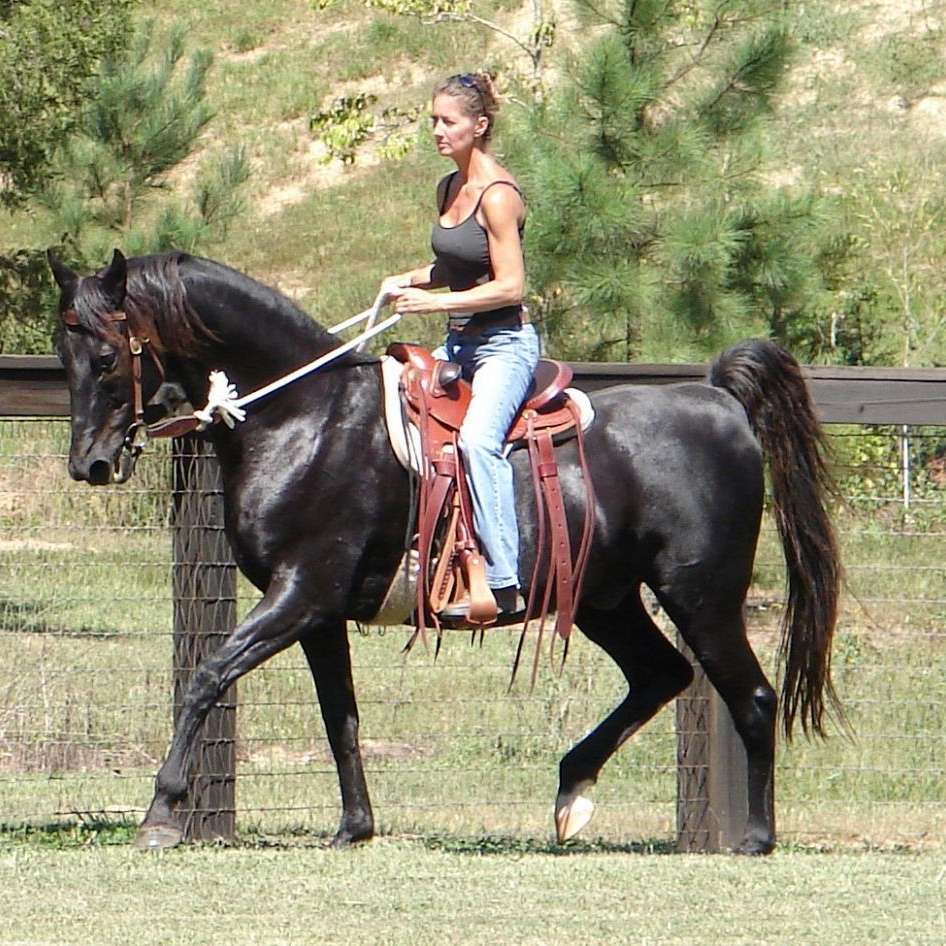 Renaissance Winds Farm
Our farm specializes in breeding and raising American Saddlebreds from the ground up... and without "baggage." Raised naturally in highly social herd environments and handled daily, our main goal is helping our horses to become calm, confident and engagingly curious partners to their human companions, allowing them to happily excel at any discipline. We are not just in the business to "sell a horse.... (read more) " It is imperative that our horses compliment the next human that comes into their lives. For that reason, we are extremely particular to whom our horses go to. If you are not able or willing to impart detailed information about yourself, your riding ability and experience, as well as provide references, then you probably need to look elsewhere for your next horse. Our goal is to create life-long partnerships with horses and humans... not "just sell a horse."