Additional Comments
Anyone for English Dressage?... Here is THE horse!!!

Anyone for WESTERN DRESSAGE???... The same horse is waiting for you, too!!!

Oh wait... how about the most beautiful TRAIL HORSE in the world???... Yep, that's Debon, too... but maybe not immediately... I'll explain shortly...

Debon is an incredibly handsome gelding that has just the right build for any discipline... most especially dressage... whether the tried and true English version...... (read more) or the up and coming WESTERN DRESSAGE version. Debon is SMASHING!!! And... he's got an amazing disposition to go along with that. He is the TOTAL PACKAGE. He has a huge stride, regardless of the gait... and carries himself well. He is very well put-together and very forward in his movement. He might even be very suitable for jumping, as he effortlessly sails over our plastic barrels while doing groundwork. This is going to be a very versatile horse.

The product of a sire who carries a record 22 Broodmare Hall of Fame dams in his 5-generation pedigree, and a well-bred Fine Harness dam who carries 12, Debon has all the bloodlines... as well as the heart and fire... of a champion, regardless of the discipline you choose to direct him in. He carries 13 Broodmare Hall of Fame dams in his 5-genereation pedigree himself, just like his full-sister, Harlem's Butterfly Kiss, who is also available for sale.

Debon has a gorgeous swan neck, beautiful, wide-set eyes, and is the spitting image of his sire in conformation. He moves with a graceful elegance and power that reminds us of the astonishing "power-house" movement of his mother, and it is easy to see why she attained the many championships that she did in her younger years. We expect no less from this young man. Debon is the perfect combination of these genetics. He is going to be tall, and we expect him to be around 16H once he is through growing.

Debon is easy to vaccinate, deworm, and provide general "maintence." Just don't show him a WATERHOSE... unless you are ready to get wet right along with him. That horse LOVES the water! He'll stand there with his face right in the spray, lips curled up and enjoying every second of being wet.

Our farm is NOT a typical or "traditional" Saddlebred farm.....therefore, we do not train our horses in the "traditional" way. Our horses are not standing around in stalls all day long. They have the luxury of lush pastures and the company of both horses and humans to interact with each and every day. They are not "trained" using fear and intimidation techniques. We do not start our horses until they are both mentally and physically ready.

Debon ground-ties and stands quietly to be saddled and bridled without someone... or someTHING... having to hold him. He has super-soft lateral flexion and vertical flexion. He stands quietly to be mounted from both sides. He has many hours in the arena working on walk to trot transitions under saddle... staying along the rail... navigating obstacles.. backing up... disengagements, etc. And through all of that, Debon has such a great work ethic that it is hard to believe that he is still quite green in his training.

I attempted to take Debon outside of the arena recently and he was not quite ready for the "Great Outdoors"... although the "Great Outdoors" simply existed on the other side of the arena GATE. Without the railing, Debon felt completely lost... like a child without training wheels on their bicycle for the first time. I decided to go back into the arena... and once back in there, Debon dropped his head, relaxed, blew out... and proceeded immediately to quietly trot along the rail. I'm sorry, but it was SO hard not to laugh... such a big horse so not quite ready for the big world... and yet, he LIVES IN THE BIG WORLD. But... not to worry... in time I'm sure that as he confidence grows, his interest in the rest of the world will expand. But for now we will just continue to focus building confidence in the arena. :)

Debon has had extensive groundwork using Parelli natural horsemanship methods. He knows all the 7 Games extremely well and we have worked to see that he is extremely receptive and sensitive to just the slightest cues. This is the kind of horse that when he is finished, he will be able to respond to your THOUGHTS instead of your physical cues... he is going to be THAT good!

Because of Debon's nature, his upbringing, and his training, we will only consider a person that has an extensive understanding and background of natural horsemanship methods... in which case, we will be asking any interested parties to give us an example of their abilities before further consideration will be given.

We are very specific to whom our horses are sold to. For that reason, we will ask you personal questions regarding your finances, dedication and commitment levels, references, riding and horse experience, training philosophy, and anything else that we feel is important on behalf of our horses. We may even come to check out your farm to make sure it is suitable. If you are not willing to provide that type of information, please do not contact us.

Thank you. If you feel that you have something special to offer Debon, please don't hesitate to contact us!

*** I have some short video clips of Debon at Liberty available on YouTube. If you will go to YouTube and type in "Renaissance Winds Farm," it will pull up our channel with video footage of Debon, as well as the other horses that we are offering for sale. You can also type in "Debonaire Affaire" and it will pull up his video footage as well. Enjoy!
Shipping Notes
Buyer is responsible for shipping, but we might be able to deliver if within a reasonable distance from our farm. If long distance, we will be more than happy to coordinate Debon's travel arrangements with some very trusted shippers that we know personally. Just let us know.
---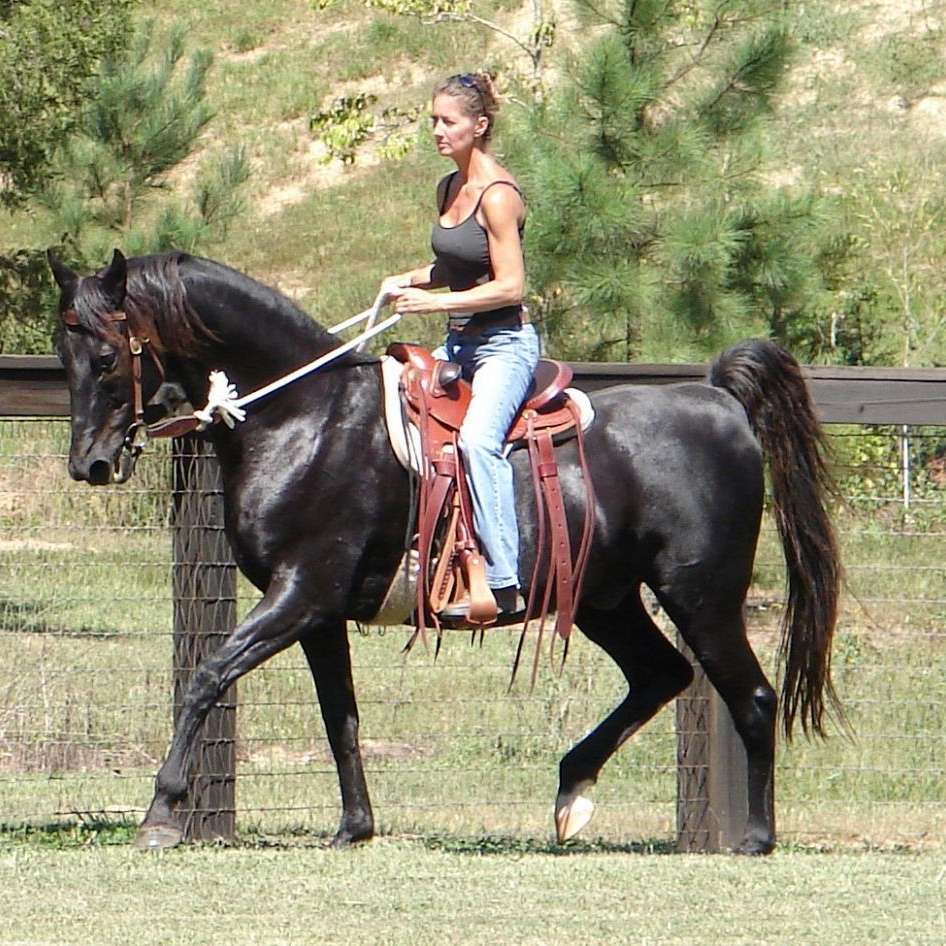 Renaissance Winds Farm
Our farm specializes in breeding and raising American Saddlebreds from the ground up... and without "baggage." Raised naturally in highly social herd environments and handled daily, our main goal is helping our horses to become calm, confident and engagingly curious partners to their human companions, allowing them to happily excel at any discipline. We are not just in the business to "sell a horse.... (read more) " It is imperative that our horses compliment the next human that comes into their lives. For that reason, we are extremely particular to whom our horses go to. If you are not able or willing to impart detailed information about yourself, your riding ability and experience, as well as provide references, then you probably need to look elsewhere for your next horse. Our goal is to create life-long partnerships with horses and humans... not "just sell a horse."