Additional Comments
NOELLE is an awesome little pony! You can run and jump on from behind! Swing on indian style! Mount from a mounting block, stump, picnic table, she just does not care! NOELLE loves children and they love her. We have been using her for a lesson pony for children 3 yrs up to 10, and she is absolutely amazing! She will fall asleep when you pet her face....she snuggles...loves to sniff .....and she lowers her head for little children! Noelle stands absolutely still to mount and she stands and waits for you to tell her to move!... (read more) Noelle is the same 24/7, even when stalled! No extra energy when stalled....stands to mount...just the same all the time. Noelle is our best lesson pony for tiny children and she is bombproof. All the children that have come to visit and ride just love her! Noelle has years of experience on trails, camping trips, - ties to anything - and is easy to do all things with including trim, clip, load, and loves her baths. Noelle rides double, bareback, english or western. Toddlers can stand beside her and pet her belly...(using common sense of course)......The kids have crawled under her....and several have piled on top of her! She is just an extraordinary pony and believe me, finding one like her is rare. We specialize in finding SAFE horses for children, special needs, beginner & mature riders. We also have horses for experienced riders. Noelle is available for on-farm lease only, she is too valuable to go anywhere!

Visit us on the web at www.horseng.com for more pictures and info.

Noelle is available for lease here at our farm only:

Full Lease - Three group lessons per week. $360/month
Half Lease - Two group lessons per week. $240/month
Quarter Lease - One group lesson per week. $120/month

To schedule an appointment, text Susan at 215-805-6012.
---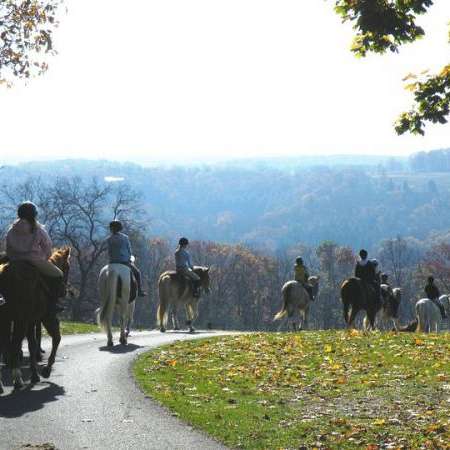 Horseng Farm
Small, family owned and operated facility offers every amenity possible with an emphasis on personal care - indoor arena, miles of trails directly off the property, and onsite horse shows.