Additional Comments
*CNC Joeseph King of Dreams. This is a really wonderful 1998 Curly/Arabian gelding - he is full of energy and fun - awesome for an intermediate rider to to trail riding, dressage, lessons, endurance, western riding, he has done a number of different things. With you as his confident leader, he is always ready to go do something fun and different.

*Joe is excellent with other horses and is a really great babysitter for youngsters. He is good for the farrier, he loads and hauls well, has camped overnight at an endurance ride, he bathes well and will tolerate clippers if you are polite about it.... (read more) He is a very personable horse that will bond strongly with a person, always watching to see what you are doing and what you and he are going to do next - he even whinnies out loud quite often to his "person".

*Joe has been for sale for a while but as my adult daughter has been riding and enjoying him for the past couple of years we haven't marketed him too actively; however, she has graduated from University now and is to leave the area for work soon, so I realize that I need to find him a family to call his own. He has been ridden by a few trainers in the past and they all tell me that he is worth more money than I have been asking for him, but in the interest of finding him a good home I am going to lower his price to $2500.00 for a limited time.

Shipping Notes
I can assist with shipping anywhere in North America
---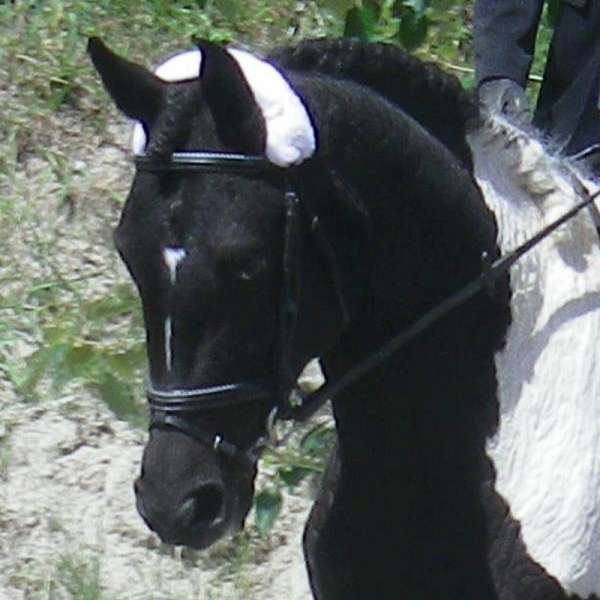 Curly Standard Place
Standing excellent quality, Hypoallergenic Curly Sporthorse Stallion *Sandman's Magic. *Sandman is a proven sire of outstanding quality and curls. We breed, raise, train and offer sales of curly horses of all ages.