Skills / Disciplines

All Around, Driving, Foundation, Halter, Ridden English, Ridden Western, Trail Riding
Additional Comments
For lease locally ONLY and not for sale.

This is a trainer owned horse. I am finding Angus on the back burner once again when we just bought two younger stud colts and having to spend a lot of time with those boys. He was a very sweet stallion and ever sweeter gelding now.

We did not need four stallions with one broodmare so gelded him this winter so we could show him. Angus has been handled and well loved since birth so I will not lease him to someplace unless the right situation in a secure facility.... (read more) If you break him or lose him, you will buy him for $5000 and sign a lease contract stating as such.

Angus will excell in any division including driving, hunter, dressage, Western, halter. He is not for trail, endurance or gaming. He is a show horse and bred to show. He loves people, has nice manners, sound, sweet and he loves being worked.

He will be leased to an adult home only and not to beginners. He is green broke and just needs finishing. He is not to have more than one rider on him. I will want to have him local so I can check on him and make sure he is being worked and loved. I will also come ride once a month to check on his training so I will keep a close eye on my boy.

I am keeping this one horse of my bloodlines, but I am willing to share him to a great home. And we will want to show him in halter and possibly under saddle at the Spokane fair so we fill the local Morgan classes.

Let me know of your situation and experience when you get in touch please. Can you work horses?
---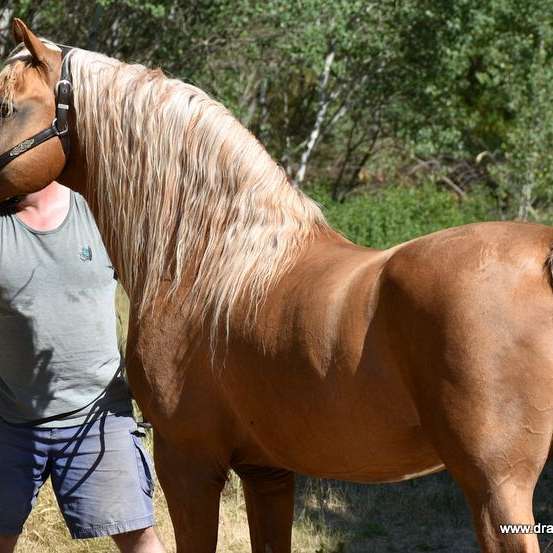 Dragoon Morgans & Studios
In Morgans since 1964, we are standing cremello and bay Morgan stallions at stud to all breeds and gorgeous Morgan foals for sale now and then. We only have a few foals and they are always well handled since birth, trained and shown before sold. Our foals are always well started, mellow, kind, load, stand tied, go to shows starting at a young age, etc. We continue their training until sold then breed a foal or two.... (read more) We are not large breeders but the ones we sell are trained a lot before leaving us with their ground work. Once we sell a foal than we breed back and start the process once again. Sorry we do not work outside horses or board them but we can refer you to people who do that. We only have enough time to train and sell our own horses. We do volunteer with Rough Start Horse Rescue to work and market some of their homeless horses since 2010. We take in Morgans and crosses from Rough Start Horse Rescue to foster, train and find homes. I attend many of their events and shoot photos for them as well. See Dragoon Studios on Facebook or www.dragoonstudios.net Secretary of the Spokane Morgan Club, www.spokanemorganclub.org to see stallions at stud, horses for sale, events and more.