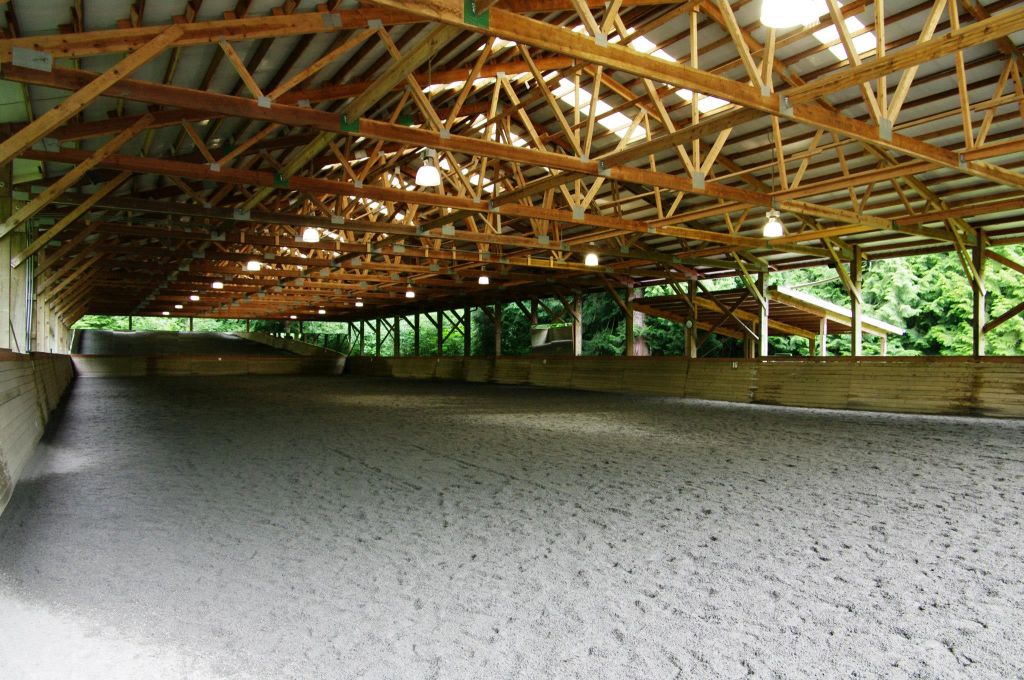 Redmond, Washington
Creekside Farm is a beautiful full care boarding facility in Redmond, WA. Our horses enjoy oversized 12' x 14' stalls with runs, or paddocks with shelters. All are equipped with automatic waterers and slow-feed mangers which provide access to Eastern WA hay 24/7. Alfalfa pellets, Triple Crown feed, and a multi-vitamin supplement are included in the cost of board, and we also offer a few other feed items at cost. Grain and supplements are fed twice daily.

Horses rotate in and out daily to provide a change of scenery and an opportunity to socialize over the fences. All of the paddocks and runs have recently been renovated with the Lighthoof grid stabilization product to ensure that they stay mud free.

Ride in our covered dressage size arena, which is equipped with lighting and speakers to create the perfect riding environment. The footing is Equiloft sand and rubber, and is dragged and watered frequently to maintain optimal conditions. The walls are slanted to lessen the likelihood of the rider's leg being caught.

Enjoy the feeling of a quiet, friendly facility. Your horse will be one of 10, all of whom receive very personalized care. We have a heated tack room which is accessed only by secure codes. There are grooming areas and a hot/cold wash area. A dressage trainer presently works with several of the horses and boarders here -- you can train/take lessons with her or ask your own instructor to come to the facility.